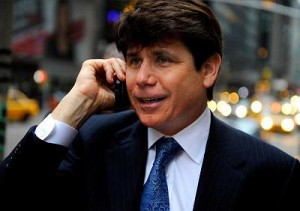 The State Journal-Register out of Springfield, Illinois ran a story yesterday covering the highlights of the recently released phone conversations being used as evidence in the Rod Blagojevich federal corruption trial. The audio was so entertaining to reporter Brian Mackey that he decided to pull the best snippets and turn them into ringtones, which are now available for free on the SJR affiliate blog Off the Clock.
The ringtones come from four separate wiretapped conversations that took place between Blago and members of his inner circle like general counsel Bill Quinlan, advisers Bill Knapp and Doug Sosnik, Deputy Governor Robert Greenlee, top aide Doug Scofield, and his wife Patti Blagojevich. The dates of the conversations range from Nov. 3 to Nov. 10, 2008 – immediately before and after Barack Obama was elected president.
Download all 9 and assign them individually to friends and family members! There's one for your parents who still nag you for not going to med school: "Only thirteen percent of you all out there think I'm doing a good job. So (expletive) all of you." And "I (expletive) busted my (expletive) and (expletive) people off and gave your grandmother a free (expletive) ride on a bus. Okay? I gave your (expletive) baby a chance to have health care" is just perfect for Grandma Betty.
For those of you who still can't part with that Crazy Frog ringtone you downloaded back in the day, complete audio and transcription of the conversations (without The State Journal-Register's censoring) is available on the website for the United States Attorney's Office for the Northern District of Illinois.
Have a tip we should know? tips@mediaite.com