Ezra Klein: Admin's 11th Hour Obamacare Changes the 'First Crack in the Individual Mandate'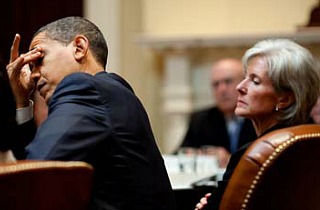 For some who lost their health insurance plans as a result of the implementation of the Affordable Care Act, the individual mandate temporarily no longer applies. On Thursday night, the White House announced that it would allow those who lost their plans to purchase "catastrophic" coverage plans so long as they are under 30-years-old and meet vaguely defined financial hardship criteria.

"The latest rule will allow consumers with a canceled health plan to claim a 'hardship exemption' if they think the plans sold through new federal and state marketplaces are too expensive," the Washington Post reports.
The announcement comes just three days before the deadline for those who lost their insurance to enroll in order to have coverage by January 1. The Post adds that this move was " prompted by a group of Democratic senators" in order to keep them from pursuing even more radical reforms to the ACA. Critics have noted that delaying a Supreme Court-approved tax for a narrowly defined group of people could violate the equal protection clause of the 14th Amendment to the Constitution.
RELATED: Why Should President Obama Have to Sign Up for Obamacare?
Following the announcement, WonkBlog reporter Ezra Klein outlined the number of problems associated with this latest maneuver. He wrote that it was his impression that Health and Human Services Sec. Kathleen Sebelius indicated that, for many, "Obamacare itself is the hardship."
Further, no one knows how many people are currently uninsured as a result of the ACA. "[T]his puts the administration on some very difficult-to-defend ground," Klein writes. "Republicans will immediately begin calling for the uninsured to get this same exemption. What will the Obama administration say in response?"
"This puts the first crack in the individual mandate," he concludes. He notes that, if Democrats do not feel this latest move insulates them from blowback from their constituents ahead of the 2014 midterm season, they may be more inclined to seek more sweeping changes to the ACA which would be "a very big problem for the law."
[Photo via AP ]
— —
> >Follow Noah Rothman (@NoahCRothman) on Twitter
Have a tip we should know? tips@mediaite.com