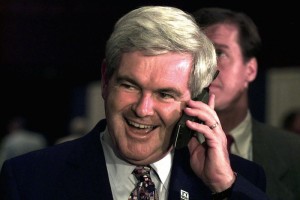 Facebook on Monday published a note pointing to Newt Gingrich as an example of the one of the most "Facebook savvy" politicians on the social network.
"Gingrich's Facebook page is a great example of providing many ways for supporters to get involved, catering to every level of engagement while equally promoting all of the tabs," Facebook's political team wrote in the post. "Remember, a cool application or an engaging tab is useless unless you promote it to your fans and explain why they should engage."
Specifically, Facebook applauded Gingrich for using "a wide variety of tabs on his Facebook page to take the pulse of the public," including one for WayIn, a quick mobile polling app, which Gingrich has used to poll his Facebook "friends" over such insightful matters as "With Newt I am optimistic about America's future," (92 percent agree) and "Will you vote in 2012?" (91 percent agree).
Moreover, Facebook associate manager for policy Katie Harbath praised Gingrich's call center page for using built-in Facebook integration, allowing users to see which of their Facebook Friends made calls on behalf of the candidate and how many calls those people made.
Facebook also commended the savvy social networking skills of House Speaker John Boehner (R-OH), for encouraging "members of the Republican caucus to share the 'GOP Jobs Plan' tab," 2012 Texas Republican Senatorial candidate Ted Cruz, the former state solicitor general, for using a tab to "highlight his state endorsements," and one lone Democrat, Rep. Sandy Levin (D-MI), for calling for, and sharing, stories of unemployment challenges from constituents.
We asked Facebook about the reasoning behind the conspicuously high ratio of Republicans cited as exemplary social media mavens in this instance.
A Facebook spokesperson provided the following information about the site: "We have a bipartisan team that works with politicians to optimize their Facebook presence both in an official capacity and on campaign pages."
In addition, the Facebook spokesperson told TPM that the U.S. Politics on Facebook page "highlights activity across the political spectrum" and will continue to do so through the 2012 general election.
Broadly speaking, Republicans are embracing social media like never before: Although social media was formerly dominated by Democrats, a Pew study in January found that Republican-identified voters used social media more than Democrats in the run-up to the 2010 midterm election and Republican activists and strategists have made it a mission to paint the Web Red during the 2012 election.
Gingrich himself has been perhaps the most conspicuous social media user of the current crop of Republican 2012 presidential candidates.
Who could forget the minor controversy that erupted in August when a down-on-his-luck Gingrich boasted about his massive Twitter following — 1.3 million candidates at the time — saying, "I have six times as many Twitter followers as all the other candidates combined, but it didn't count because if it counted I'd still be a candidate; since I can't be a candidate that can't count."
Then came the allegations from a "former staffer" who told Gawker that Gingrich's Twitter following was mostly (80 percent) inactive or dummy accounts created specifically to boost his overall popularity on the microblogging platform. That was later refuted by a study that found similar levels of account inactivity by other politicians, who, like Gingrich, appeared on Twitter's "Promoted Users" list.
Unofficial Facebook blog AllFacebook.com on Monday also reported that while still lagging fifth among the GOP contenders in terms of Facebook fans, Gingrich is catching up, receiving an addition 10,000 fans last week and 1,500 fans 24 hours after Sunday's Republican presidential debate in Des Moines, Iowa, the most-watched yet.
And nevermind Rick Perry's oft-parodied, much-hated, "Strong" anti-gay ad, Gingrich was the first candidate to embrace a new social video technology: Google Plus Hangouts, which allows simultaneous vide-chatting with up to 10 users.
Perhaps Gingrich has really bought into the hype that social media will decide the 2012 election. After all, who could argue with his recent results?


Note – this post was written by Carl Franzen for Talking Points Memo and appears here via a content sharing agreement with Mediaite.
Have a tip we should know? tips@mediaite.com