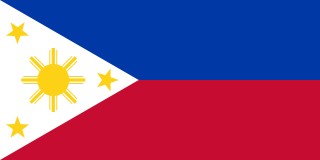 Facebook has been rising in popularity since its creation in 2004 by Mark Zuckerberg and some of his fellow Harvard classmates. However, Facebook has never actively declared a country to be at war until now.
On Sunday, Facebook put up a figure holding the Philippines Flag to celebrate the Philippine Independence Day in that country. In addition, they posted the message of "Happy Independence Day! Here's to all of the Philippines' health, happiness and prosperity." However, they flipped the flag upside down so it would feature the red on top, white in the middle, and blue on the bottom.  What Facebook did not know is that red on the top of the flag means that the country is at war according to The Flag and Heraldic Code of the Philippines.
Luckily for Facebook, locals quickly pointed out their mistake:
Nakakagulat ang @facebook bakit mali ang Philippine Flag ??? Happy Independence Day pic.twitter.com/5fQ4XqL1hz

— Keith San Antonio (@klenlue) June 12, 2016
Facebook says we're at war. Happy Independence Day, Philippines. May we truly be free. #Kalayaan2016 o #Kasarinlan pic.twitter.com/SktzRNSJMj

— Camille Conde (@Cam_Conde) June 12, 2016
When @facebook greeted you Independece Day w/ an upside down flag. F A I L.#PhilippineIndependenceDay

— theLAUNDRYDIARY (@theLAUNDRYDIARY) June 12, 2016
Facebook proceeded to take down their image and immediately apologized to the citizens of the Philippines.
"This was unintentional, and we're sorry. We care deeply about the community in the Philippines and, in an attempt to connect people on Independence Day, we made a mistake," Facebook said in a statement to the Philippine Star.
In addition, the government of the Philippines had also tweeted out the week prior how to hang their flag in order to show the difference between war and peace before their independence day.
May 28-June 12 are the Flag Days; all citizens are encouraged to fly the Philippine colors: https://t.co/O6r6YTjkPdpic.twitter.com/iSVHP4X67V

— Official Gazette PH (@govph) June 2, 2016
To add insult to injury for the people over at Facebook, Google posted a similar Philippine Independence Day doodle to their homepage in the country.  However, they had the flag the way it was supposed to be flown.
Have a tip we should know? tips@mediaite.com