Facebook has apologized and banned a dating site after its "Find love in Canada" advertisements featured photos of Rehtaeh Parsons, a Nova Scotia teen who committed suicide last April following a gang rape that led to a year of cyberbullying from her classmates.
The ad—in which "Find love in Canada! Meet Canadian girls and women for friendship, dating or relationships. Signup now!" was splashed above alternating photos of Parsons—was spotted by a man in Toronto, who said he recognized Parson's face from the news: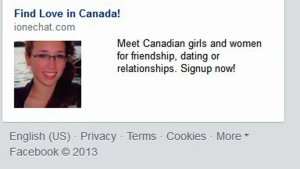 "This is an extremely unfortunate example of an advertiser scraping an image from the Internet and using it in their ad campaign," Facebook said in a statement on Tuesday. "This is a gross violation of our ad policies and we have removed the ad and permanently deleted the advertiser's account. We apologize for any harm this has caused."
The link led to a site called ionechat.com; Facebook has deleted the company's account.
Parsons was raped by four boys at a party in 2011, and a photo of the incident taken by one assailant was passed about her classmates. After enduring over a year of harassment, which Parsons eventually moved to Halifax to escape, the teen attempted suicide by hanging herself. When she was taken off life support, her story attracted international attention, being called "Canada's Steubenville."
Glen Canning, Parson's father, was happy the company had been banned, but planned to determine how her photo ended up in the ad in the first place.
"In my heart, it's just inexcusable," he said. "There's just no way I would accept an excuse that this was just some kind of a glitch."
A Facebook page set up by Parsons' mother posted about the incident, and suspected the dating site of using her photo intentionally to attract clicks: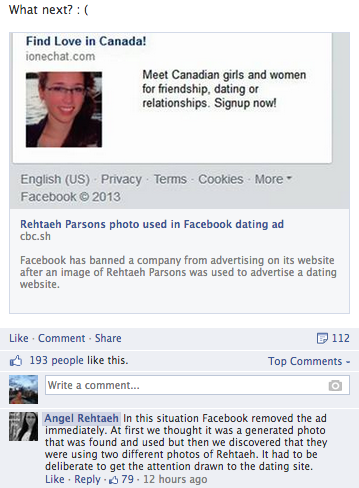 Watch a clip on the incident here, via CBC:
[h/t International Business Times]
[Images via screengrab]
——
>> Follow Evan McMurry (@evanmcmurry) on Twitter
Have a tip we should know? tips@mediaite.com