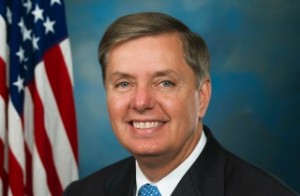 On Monday, Sen. Lindsey Graham (R-SC) announced his intention to run for president in the 2016 race on the GOP ticket. The media event was met with general interest in the press, since the 2016 race is beginning to heat up — what with nearly the entirety of the Republican Party prepping for a shot at the White House. Graham's announcement, however, didn't amount to much on social media.
As CBS News notes, Graham's Monday press conference garnered the South Carolinian senator "142,000 interactions such as likes, posts, comments and shares from 84,000 people" on Facebook in the last 24 hours.
However, Graham's numbers pale in comparison to his fellow GOP hopefuls, who boast significant numbers on Facebook and across social media at large. The only candidate who did worse than the senator? Former Gov. of New York George Pataki, who's middling splash on Facebook amounts to "81,000 interactions from 59,000 people."
So who wants to take a guess as to which Republican candidate garnered the most attention online? That'd be Senator Rand Paul (R-KY), whose ongoing media attention for his forcing the expiration of the Patriot Act is working wonders for his branding. Wonders like "1.9 million interactions from 865,000 unique people" in the same amount of time it took Graham to nab his 84,ooo hopeful votes.
This isn't an implied argument for Paul, mind you, but maybe we should try letting social media decided who the next President of the United States will be. I mean, this is the same Internet machine that (mostly) chose to value Caitlyn Jenner's Vanity Fair cover more than Kim Kardashian's baby announcement.
[h/t CBS News]
[Image via U.S. Senate]
— —
>> Follow Andrew Husband (@AndrewHusband) on Twitter
Have a tip we should know? tips@mediaite.com