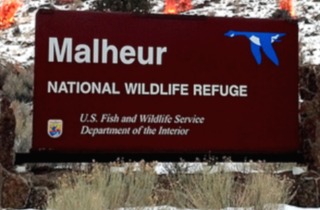 FBI agents tonight have surrounded the Malheur National Wildlife Refuge, where members of that now-infamous Oregon militia are still camped out in.
The militia came to Oregon back in earlier January to protest the sentencing of two ranchers jailed for setting fire to government land. The feds attempted to deal with them, but for the most part left them alone as they merely demanded supplies and received dildos in the mail.
A confrontation at the refuge mere weeks ago led to the arrest of multiple militia members and the death of another.
Well, tonight, the FBI put out a statement explaining that multiple agents have surrounded the building again:
At approximately 4:30 p.m. (Pacific) on Wednesday, February 10, 2016, one of the occupiers rode an ATV outside the barricades established by the militia at the Malheur National Wildlife Refuge. FBI agents attempted to approach the driver, and he returned to the encampment at the refuge at a high rate of speed.

At this time, the FBI has moved to contain the remaining occupiers by placing agents at barricades both immediately ahead of and behind the area where the occupiers are camping. Negotiations between the occupiers and the FBI continue. No shots have been fired.

"It has never been the FBI's desire to engage these armed occupiers in any way other than through dialogue, and to that end, the FBI has negotiated with patience and restraint in an effort to resolve the situation peacefully. However, we reached a point where it became necessary to take action in a way that best ensured the safety of those on the refuge, the law enforcement officers who are on scene, and the people of Harney County who live and work in this area," said Greg Bretzing, Special Agent in Charge of the FBI in Oregon.
According to NBC News, there are four militia members left. So this thing could possibly get resolved tonight.
One of them said on a livestream earlier, "They keep telling us it's time to surrender."
[image via USFWS/Flickr]
— —
Follow Josh Feldman on Twitter: @feldmaniac
Have a tip we should know? tips@mediaite.com
Josh Feldman - Senior Editor