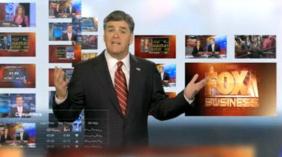 In addition to the various on-air changes Fox Business Network announced yesterday, the network has a new advertising strategy that hits on a couple key points.
First, it uses the star power of Fox News, a departure from previous ads focusing on the FBN personalities.
In a TV ad that has played in the New York market on Fox News, but also has been seen this week on the cable news competition CNN and MSNBC, every major FNC star makes an appearance in a rapid 30-seconds. Bill O'Reilly says FBN is "straight-forward, no-spin talk you can trust," while Sean Hannity describes "the power to inform." Then there's Glenn Beck, who says, "come on America the choice is simple," and "this network wants you to succeed" (apparently the competition doesn't).
Also in the ad are Greta Van Susteren, Megyn Kelly and Bill Hemmer. The tagline at the end, showing both logos, is "two networks, twice the power."
Obviously Fox News is a powerful force on cable news, and cable in general. And Fox News stars consistently show up on FBN programs. But having Bill O'Reilly tell viewers that watching Fox Business is a good idea could pay dividends as the young network continues its quest for viewers.
A print ad takes a decidedly different route. As Neil Cavuto showed recently in a Fox News segment, the ad asks "Is The World Broke?" If it wasn't clear, there's a photo illustration – the Earth with a sad face, shedding a single tear. "Out of money means out of options," the ad says. "Watch Fox Business."
Check out the TV promo:


—–
» Follow Steve Krakauer on Twitter
Have a tip we should know? tips@mediaite.com