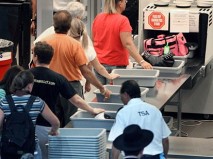 If there is one lesson to be gleaned thus far from Thursdays attempted terrorist attack on Northwestern Flight 253 it is this: when it comes to flying safely you may be on your own (notwithstanding the pilots and the ground staff!). According to ABC's Jake Tapper the only thing Umar Farouk Abdulmutallab didn't do to set off alarm bells was call the TSA himself and announce that he was going to attempt to blow up a plane over U.S. soil. Per Tapper's Twitter:
# (4) Dec 24 he boards plan in Nigeria for roundtrip multiday flight to US WITH NO LUGGAGE about 11 hours ago from web

(3) Dec 16 he buys $3K ticket WITH CASH from KLM office in Ghana. Gives no address or contact info about 11 hours ago from web

Nov 20, US Embassy informs other embassies and US counterterrorism community, but all thats done is name put in database of 550K about 11 hours ago from web

(2) Nov 19, his father- a respected banker- reports son to US Embassy in Nigeria, says he's being radicalized in Yemen…. about 11 hours ago from web

(1) May 09 UK denies him a visa for claiming he'd study at bogus university. Per Home Secy that immediately put him on watchlist in UK. about 11 hours ago from web

the video of our WN spot has yet to post. but we looked at 4 missed signals about Abdulmuttalab…here they are:…(contd) about 11 hours ago from web
Jaw-dropping, no? Also, this whole incident is sort of putting to rest the argument that the former administration had anything to do with the fact we have not been attacked in the last eight years. Anyway, with all this in mind, as well as yesterday's revelation that Abdulmutallab was not put on the "no fly" watch list because "it was decided that there was insufficient information at that time based on existing watch list criteria" it may not be entirely surprising that the incident is bringing out, shall we say, certain people's worser angels.
Case in point: Yesterday on Fox News conservative talking head Mike Gallagher, in an effort to address the "800 lbs gorilla in the room" suggested that there should be a separate line in airports for Muslims. (Video below.)
"Let's do that with anyone named Abdul, or Mohammed, or Achmed, let's take them and put them in a room and make sure they don't have explosives sown into their underwear."
I am going to hazard a guess that, alas, he is not alone in that thinking that's a reasonable plan. However, for a slightly less hysterical, slightly more grounded (literally) reaction here is NPR's Morning Edition report from the Dallas-Ft. Worth terminal where fliers appeared calm in the face of fear and frustrated in the face of increased security: Life goes on, and if you've got to fly, you've got to fly.
Have a tip we should know? tips@mediaite.com