Fine Whine: Gingrich Campaign Accuses Romney Camp Of Packing Debate Audience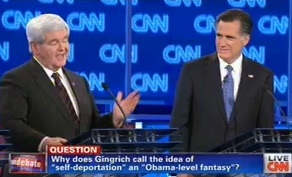 After blazing to victory in South Carolina on the strength of dynamite debate performances, former House Speaker Newt Gingrich has seen his status as a master-debater falter in Florida, along with his poll numbers. Following Monday night's NBC News debate, Gingrich complained about Brian Williams' silencing of the audience, and this morning, his campaign is accusing Mitt Romney's campaign of packing Thursday night's audience, like some kind of Republican establishment Snickers™ bar.
Thanks to Rick Santorum, Thursday night wasn't a total victory for Mitt Romney, but the former Massachusetts Governor clobbered chief rival Newt Gingrich all night, and caught the former Speaker flat-footed on a number of occasions. Perhaps because they haven't had a chance to watch the game films yet, the Gingrich campaign is blaming the crowd. From The Huffington Post's Jon Ward:
"They definitely packed the room," Kevin Kellems, one of Gingrich's senior advisers, told The Huffington Post early Friday morning. "The problem for them is their candidate, at several junctures, couldn't remember what he had said before on an issue or what the fundamental truth is on a given topic. TV viewers tend to notice and remember things like that."

A more junior member of the Gingrich campaign said in an email that it was "obvious" that the Romney campaign had worked to make sure the audience was overly favorable toward the former Massachusetts governor.

"I was getting calls and emails from all over saying this," the junior aide said. "Just average people saying, 'Wait a minute.'"
It's a neat resolution of the chicken-or-egg argument; did Gingrich suck because the audience wasn't responding to him, or did the audience not respond because Gingrich sucked? No, the theory goes, Gingrich was awesome, and the audience sucked. However, the actual debate tells a different story. Mitt Romney was locked and loaded, attacking Gingrich more aggressively than in previous debates, while Gingrich seemed unprepared. Rick Santorum, meanwhile, continued to be the stealth batting champ of these debates, landing several devastating hits on Romney.
This accusation follows Gingrich's complaint, earlier this week, that NBC's Brian Williams should not have silenced Monday night's debate audience. Since uproarious audience support buoyed his debate performances in South Carolina, and greatly contributed to his victory there, it's not hard to understand why Gingrich's campaign would be concerned by the Florida audience desertion.
However, there's no evidence that Romney packed the crowd, and even if there were, this kind of complaining doesn't help Gingrich. At best, it demonstrates an unwillingness to take responsibility for his own poor debate performances. At worst, it gives the impression that Gingrich needs a supportive audience in order to perform. These debates aren't 3rd grade dance recitals, and neither is the presidency.
As for silencing the audience on Monday (it holds its applause until the end, or it gets the hose again!), the media reporter in me hates the idea. Those audiences have provided countless memorable moments this election season. However, they can also influence the outcome of these contests in ways that have little to do with the substance. This year may see the debate audience become the new x-factor in the Nixon-Kennedy, sizzle v. steak conflict.
Have a tip we should know? tips@mediaite.com