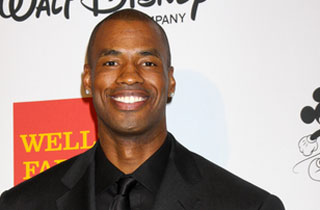 In a moving essay on The Players Tribune titled "I'm Out," Jason Collins, the first professional athlete to publicly come out as gay, announced his retirement.
Collins, 35, had played for the NBA for nearly 13 years, and was last signed with the Brooklyn Nets. But ever since he came out last year, Collins wrote that he'd received nothing but support from his teammates and colleagues, from Kevin Garnett to Tim Hardaway, and that he didn't regret his decision. "I needed to live the past few years as an openly gay basketball player in order to be at peace retiring today," he wrote.
He specifically remembered one moment when he was still closeted, and his teammates asked him, point-blank, if he was gay. "Every other time, I could find a way to laugh it off," he wrote. "This time was different. I was 30 and unmarried. No kids. No crazy road stories. For years, I had dated women—never men, even secretly—but now I was starting to be more honest with myself about my sexuality. I felt like maybe the guards I had put up were starting to wear down. This time, the question stung like it never had before. "
Then, out of the blue, a teammate said that he'd seen him with a woman the night before, which Collins called a "lifeline":
It's easy to say you would've done what my teammate did, or something else to alleviate the situation. But when you're in that moment, it's a lot easier to pretend that you didn't hear what was happening, or to throw on your headphones, or perhaps easier still—to laugh along with others.

This scenario plays out every single day on buses, school cafeterias, and office buildings across the world. Maybe 10 closeted athletes will come out and be free over the next year. Or maybe not. People ask me all the time, "Don't you think we need more athletes to come out?"

Yes, of course I do; that would be great. However, if we really want to make the world a better place, we also need more people like the teammate who saw me drowning and threw me a lifeline. You can be that person who speaks up.
That incident convinced him to come out. "I had never felt more comfortable playing basketball than I was as an openly gay man," he said. "You know what a real distraction is? Maintaining a lie 24 hours a day, seven days a week, for most of your career, for most of your life. The energy involved in hiding the stress, shame, and fear of being gay is a full-time job. With all that removed, I was like a new person."
You can read the rest of the essay here.
[The Players Tribune]
[Image via Helga Esteb / Shutterstock.com]
—
>> Follow Tina Nguyen (@Tina_Nguyen) on Twitter
Have a tip we should know? tips@mediaite.com