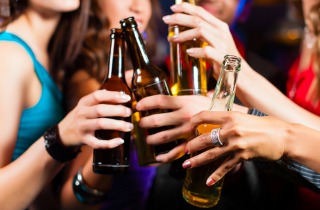 A contributor to Forbes wrote a column yesterday (which has since been taken down) arguing that drunk women at frat parties poses a serious threat, if not the most serious threat, to frat life.
Bill Frezza explains that there was a recent incident at MIT (his own alma mater) where a drunk woman falling out a window led to a crackdown on frat parties. And Frezza thinks this is a shame, because, he touts, the fraternity members generally follow the rules very seriously, and it's the "drunk female guests" causing the problem.
He argues, "We have very little control over women who walk in the door carrying enough pre-gaming booze in their bellies to render them unconscious before the night is through."
Frezza also points to what he believes is a double standard in how drunk men and women are viewed:
Yes, boozed up males also show up at parties, sometimes mobs of them disturbing the peace on the front steps. But few are allowed in, especially if they are strangers… In our age of sexual equality, why drunk female students are almost never characterized as irresponsible jerks is a question I leave to the feminists. But it is precisely those irresponsible women that the brothers must be trained to identify and protect against, because all it takes is one to bring an entire fraternity system down.
He does offer some advice to the men at these parties, like telling them not to let in any drunk women who show up at the front door. Frezza also says, "Do not let a drunk brother take a drunk female to his bedroom."
Of course, Frezza did get some flak for his column, and took to Twitter to defend himself:
Let the conversation begin. I have donned my asbestos underwear. Please read the original not just the attacks. http://t.co/kemTJfydRX

— Bill Frezza (@BillFrezza) September 24, 2014
Meme of the Day. Beware, young men, trouble awaits those who don't take this threat seriously. http://t.co/2oopkDERSd

— Bill Frezza (@BillFrezza) September 24, 2014
Update- 3:43 pm: Forbes has since dropped Frezza as a contributor.
[h/t Business Insider]
[image via Shutterstock]
— —
Follow Josh Feldman on Twitter: @feldmaniac
Have a tip we should know? tips@mediaite.com
Josh Feldman - Senior Editor