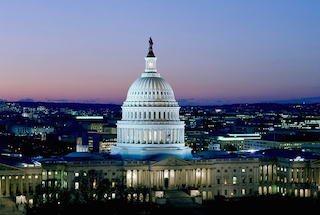 On Wednesday, Forbes released its list of the 20 "coolest" cities in America and after review, the whole thing seems tailor-made to intentionally confound and anger as many people as possible. In other words, the magazine figured out a way to troll the internet with its bizarrely random ranking of the country's major urban centers.
First there's the headline, which reads: "Washington, D.C., Tops Forbes 2014 List of America's Coolest Cities." This is clearly intended to elicit a "WTF?" reaction from the hordes of D.C.-based media figures who come across it on social media. If Washington, D.C. is the "coolest" city in America, the rest of country must be incredibly lame.
"While 'cool' might not be the first word that comes to mind when contemplating the latest standoff in Congress, D.C. nonetheless has a lot to offer those who call it home," the accompanying article reads, before citing the city's diversity and percentage of population under 30 as determining factors.
The rest of the list isn't much better. Sure, Seattle and Austin at #2 and #3 respectively are pretty cool, but then they put Houston at #4. In fact, there are three cities in Texas (Dallas is #10) ahead of New York, which at #11 doesn't even crack the top 10. "Seriously?" New Yorkers everywhere are thinking right now. "If I don't even live in a top 10 city, then why in the world am I paying this much for rent?"
As for Los Angeles, you have to go through Sacremento, California (#14) and yet another Texas city, San Antonio (#15) before you arrive at L.A. at #16. But even then, it's tied with San Jose! Forbes really thinks L.A. is equally as cool as San Jose and less cool than four different cities in Texas?!
Meanwhile, cities left out entirely include Chicago, Memphis, Philadelphia and Atlanta, who ought to be feeling pretty bad about themselves right about now. And I don't even want to think about how the hipsters of Portland, Oregon are coping with this tragedy.
But there I go, falling into exactly the trap that Forbes set for me and everyone else who dutifully clicked through all 20 slides, racking up pageviews for their website, all in service of a meaningless list that uses arbitrary criteria to make some sort of point about "coolness."
And I'm not the only one. Here are some of the best media reactions to the list on Twitter:
Forbes magazine, arbiter of "cool" http://t.co/Grh9a853CC

— Erin Gloria Ryan (@morninggloria) August 6, 2014
Forbes might as well fold at this point. They're not even trying > http://t.co/zUk4dYgwZg

— Dylan Byers (@DylanByers) August 6, 2014
I will never trust @Forbes on anything ever again http://t.co/NY7O7nmUNQ

— Alicia Menendez (@AliciaMenendez) August 6, 2014
Hey DCers, don't get too jazzed that Forbes named the nation's capital America's coolest city. Houston is No. 4 http://t.co/GPPwDl69mj

— Benjamin Armbruster (@benjaminja) August 6, 2014
Then again, being rated America's coolest city by Forbes is sort of like… http://t.co/6INLPaoyn1

— Nick Confessore (@nickconfessore) August 6, 2014
Some next-level trolling by Forbes: http://t.co/KC6lVw9aYt

— Kevin Roose (@kevinroose) August 6, 2014
When I think of cool I think of Forbes, so this makes sense. "DC Tops Forbes 2014 List of America's Coolest Cities" http://t.co/mLKoQvktCm

— Brendan Buck (@BrendanBuck) August 6, 2014
Overheard in the newsroom: "L.A. is in a tie with San Jose!" *cackling*

— Matt Pearce (@mattdpearce) August 6, 2014
Hey, remember that time Forbes named Washington "America's coolest city"?

— Josh Barro (@jbarro) August 6, 2014
[Photo via Wikimedia Commons]
— —
>> Follow Matt Wilstein (@TheMattWilstein) on Twitter
Have a tip we should know? tips@mediaite.com