Former GOP Governor: Party Thinks 'Just Putting a Woman Up Front' Will Get Female Voters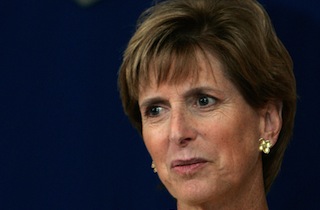 Former New Jersey Governor Christine Whitman—until last night the only woman ever selected to give the Republican Party's response to the State of the Union—told the Los Angeles Times' Mike Memoli that the GOP needed to do more than stick women in front of cameras to attract a greater share of the female vote.
Representative Cathy McMorris Rodgers (R-WA) gave the GOP's response to the State of the Union Tuesday night.
"It's hard for me to phrase this politely," she said. "Sometimes Republicans think that just putting a woman up front means somehow that women are going to feel good about the party. It is not about the messenger. It's about the message. And until we figure that one out — while it's nice that we have a woman as a spokesperson — if the message itself doesn't get changed a bit, it's not going to work."
RELATED: Todd to Priebus: If You're Trying to Rebrand GOP, Why Have Huckabee Speak on Women's Issues?
The pro-choice Whitman also denounced Mike Huckabee's comments about women's libidos at the RNC Winter Meeting last week and the House vote, just before the SOTU, for an anti-abortion bill, saying the GOP's rhetoric and action calcified the party's "condescending attitude toward women."
She added that she would never be tapped for the SOTU response today. "Those who control the levers today are more extreme than I am," she said. "They're far to the right of me and don't consider me a Republican."
[h/t Talking Points Memo / Los Angeles Times]
[Image via AP]
——
>> Follow Evan McMurry (@evanmcmurry) on Twitter
Have a tip we should know? tips@mediaite.com