Former Wisconsin AG Sees Three Laws Broken By Gov. Scott Walker During Prank Phone Call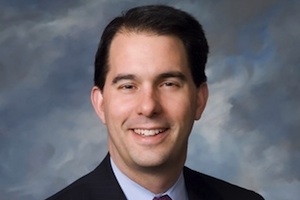 While some have dismissed the prank phone call Governor Scott Walker received this past week as an embarrassment but not one with lasting political implications, it appears that may not be the case. At least, that's what Peg Lautenschlager, a former Wisconsin Attorney General (and one, it should be noted, who served as a Democrat), believes. In an interview, Lautenschlager pointed out not one but three potential criminal acts in the recorded conversation.
From The Cap Times:
"'There clearly are potential ethics violations, and there are potential election law violations and there are a lot of what look to me like labor law violations,' said Peg Lautenschlager, a Democrat who served as Wisconsin's attorney general after serving for many years as a U.S. attorney. "I think that the ethics violations are something the (state) Government Accountability Board should look into because they are considerable. He is on tape talking with someone who he thinks is the funder of an independent political action committee to purchase advertising to benefit Republican legislators who are nervous about taking votes on legislation he sees as critical to his political success.'

Lautenschlager, a former legislator who has known Walker for many years and who has worked with many of the unions involved in the current dispute, says: 'One of the things I find most problematic in all of this is the governor's casual talk about using outside troublemakers to stir up trouble on the streets, and the fact that he only dismissed the idea because it might cause a political problem for him.'"
In addition to the "plants" issue, Lautenschlager also believes Walker's discussion of how to handle a dinner where he's explain his budget repair bill plans showed a "willingness to commit an unfair labor practice violation by refusing to negotiate." Finally Lautenschlager pointed to the much quoted end of the conversation, in which Buffalo Beast's Ian Murphy, pretending to be David Koch, offered to fly Walker to California and show him a "good time." Walker responded by saying that that would be "outstanding."
According to Lautenschlager, that "certainly sounds like something ethics investigators should look into."
Check out Lautenschlager's full comments here.
Have a tip we should know? tips@mediaite.com