Fox & Friends Isn't Alone: Remember When MSNBC Created Its Own Anti-Romney Video?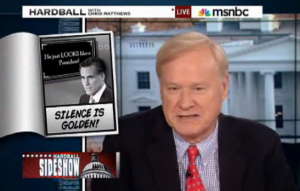 This week, Fox & Friends' four-minute video critical of President Obama resulted in outcry about a news channel crossing the line by producing a package uncannily similar to a political ad. Meanwhile in February, MSNBC aired a shorter video critical of Mitt Romney, avoiding backlash for doing so.
RELATED: Fox & Friends Nearly Crosses The Line With Anti-Obama Web Ad
As co-host Gretchen Carlson said, the Fox video was intended to be a look at whether the president's record in his first term lived up to the promises hope and change. Complete with ominous music, the video juxtaposed 2008 optimism with today's harsh realities. Bill Shine, EVP of Fox News, even responded, saying the package was "created by an associate producer and was not authorized at the senior executive level of the network."
Over at The Atlantic, John Hudson highlights a similar video created by MSNBC in February that was relatively overlooked. The "slickly-produced hit piece," entitled "Mitt: Better Off Mute," aired on Hardball with Chris Matthews (as well as on his Sunday morning talk show, The Chris Matthews Show).
The video plays off Romney's gaffes, drawing parallels with the film The Artist, "in which a silent film star struggles to adapt to films with sound." Its YouTube description reads, "Much like the perfect silent picture star whose career was thwarted by the emergence of sound in cinema, Mitt Romney has stumbled when he's had to open his mouth."
Hudson argues that while MSNBC's video is shorter, and takes a more humorous approach, these are just "gradations, which is a factor in all political advertising." For example, "the way the segment humorously displays the build-up of political hype surrounding Romney only to show him fail, resembles the satirical "Obama is cool" ads produced by GOP operative Karl Rove."
Looking at the whole picture, Hudson makes a larger point: does this really even matter? What's the different between a video montage and an Ed Schultz monologue if they serve the same purpose? Hudson cites the inherently partisan nature of both 24-hour networks, arguing that one video hardly changes the message they're already promoting. He makes a valid point: "To complain about 4-minutes of partisan excess on a 24-hour network filled with partisan excess makes little sense." While there is a line, as my colleague Noah Rothman wrote yesterday, between "journalism and advocacy," some would argue it's already been crossed.
Here's the MSNBC video:

(H/T The Atlantic)
Have a tip we should know? tips@mediaite.com