Fox News Covered Coming Out Of Former RNC Chair Ken Mehlman (Just Barely) (UPDATED)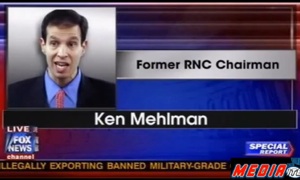 Earlier this week, former RNC chair Ken Mehlman made a bit of news when he acknowledged being gay. This was covered rather extensively by the cable news outlets, save one notable exception – Fox News only covered the story once, during the end of Bret Baier's show Friday evening. However, this contradicts reports in Think Progress and Politico, that incorrectly claimed that Fox News has completely ignored the story.
Writing for Think Progress' "Wonk Room," Igor Volsky reported:
When Judge Vaughn Walker struck down Proposition 8, Fox News barely mentioned the story and its most prominent conservative commentators ignored it entirely. Yesterday, after the Atlantic's Marc Ambinder reported that former RNC Chairman Ken Mehlman — who had orchestrated President Bush's gay-bating 2004 re-election campaign — was coming out as gay, Fox News Channel remained similarly mum and as of this posting has yet to run a single segment on the story.

…

It's unclear why Fox News ignored the story, since some Republicans have embraced Mehlman's coming out. Current Republican Party chairman, Michael Steele, for instance, issued a supportive statement: "His announcement, often a very difficult decision which is only compounded when done on the public stage, reaffirms for me why we are friends and why I respect him personally and professionally." Mehlman has also said that President Bush has been "incredibly supportive" of his coming out.

Ignoring stories which undermine conservative causes, however, is the norm at Fox. Earlier this month, Fox News refused to run a single segment on Dr. Laura Schlessinger's racially-charged rant, after which she resigned from talk radio.
While mentioning it just once doesn't necessarily change the larger point of Volsky's report, covering once is better than ignoring it. And one could easily make the argument that mentioning this story once is all the attention it deserved. The NY Times' Brian Stelter astutely points out that this Friday afternoon coverage of the Mehlman story is very similar to the method by which Fox News reported the $1 Million donation to the Republican Governor's Association by News Corp. (FNC's parent company.)
Update – Johnny Dollar points out that this story was also covered during the GrapeVine segment of Special Report
Update #2: Yahoo's Michael Calderone points out that Bret Baier's mention aired after the Politico and ThinkProgress pieces had been posted, thereby making them correct at the time. [GM]
Have a tip we should know? tips@mediaite.com