Fox News Disputes Report That Limbaugh-O'Reilly Feud Bumped Biographer From Airwaves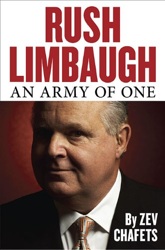 Michael Calderone reported today for Yahoo! News that author Zev Chaffets claimed to have been deliberately kept off of Fox News airwaves because his recently published biography of Rush Limbaugh included criticism of Fox News host Bill O'Reilly. But sources at Fox News dispute this claim, telling Mediaite that the author is only looking for publicity, and that no such booking was ever in fact made.
Calderone reports on media for Yahoo! News after recently leaving Politico, and just wrote in a post published late Monday:
Is Fox News keeping an author off the air because his recent book includes criticism of Bill O'Reilly?

That's what Zev Chafets, author of "Rush Limbaugh: An Army of One," thinks is happening. In the Rush-approved biography, Chafets asked the radio host what he thinks of O'Reilly.

"He's Ted Baxter," Limbaugh said, referring to the pompous newscaster played by Ted Knight in the '70s on "The Mary Tyler Moore Show."

"Sorry, but somebody's got to say it," Limbaugh continued.

That line got picked up by publications like The Hill and splashed on the Drudge Report. And it's because of that one comment, Chafets believes, that he then got bumped from a couple of Fox News shows.

Chafets told Yahoo! News that he was scheduled to appear on "Fox & Friends" on May 26 — the day after publication of his Limbaugh book — and the following Monday, May 31, on Greta Van Susteren's "On the Record."
Some background: author Zev Chafets published his book Army of One last month, which thus far, despite its provocative subject, has made relatively little news.
According to Fox News there was some interest in the book by producer's of On the Record, hosted by Greta Van Susteren, who requested the book to gauge interest, but never booked Chafets. Producers at Hannity also claimed to have received a number of calls from Chafets' publicist, but never demonstrated any interest in actually booking the author; and Fox & Friends claimed to never have called to book Chafets, but again was aggressively pursued to have him on.
A Fox News insider referred to Chafets' account of getting bumped from Fox News as result of an alleged feud as nothing more than "wishful thinking that reeks of desperation" and said, "We tend to have authors on whose books actually make news and have buzz – Zev's book has neither."
Skeptics may see this item as a publicity stunt designed to sell a book that is sill trying to move past its current ranking of 90th on Amazon's bestsellers, and 1,288th on Barnes and Noble's list.
It is hard to blame producers of these shows for not booking the author of a biography of the provocative Limbaugh, particularly when it's been such a busy month of remarkable news stories that include the BP oil spill, Arizona's controversial immigration law, the economy, and the primary season. It's entirely plausible that this is nothing more than an instance of producers not being interested in a book that has so far achieved relatively little buzz.
In fact, Chafets and his publisher have apparently been shopping an item around claiming that FNC booked him to talk about his book and then canceled, suggesting that FNC – and some of its hosts – hold a grudge against Rush Limbaugh. This seems odd considering both Fox News hosts Sean Hannity and Megyn Kelly were among the guests at Limbaugh's wedding this weekend.
It seems somewhat surprising that Calderone appears to have relied solely on one source, the author, for what some may see as a publicity stunt. At least the author received another mention of his book, though probably not the sort that he will relish.
Have a tip we should know? tips@mediaite.com
Colby Hall - Founding Editor