With Christmas under a week away, and Hanukkah starting today, you likely have a refrigerator door full of holiday cards at home right now, featuring friends, family, and awkwardly dressed kids whose names you can't remember. There might even be a dog or two in there. Perhaps the kids are making snow angels. Here at Mediaite, we get our fair share of cards, too. They're just not as trite.
Take, for instance, the greeting we received from Fox News. In case you forgot that they had a great year, the network took the occasion of their annual holiday card to remind you. Merry Christmas? Maybe not, as the term "Christmas" is conspicuously, (and perhaps wisely?) absent from the card. Why politicize the holidays with good cheer!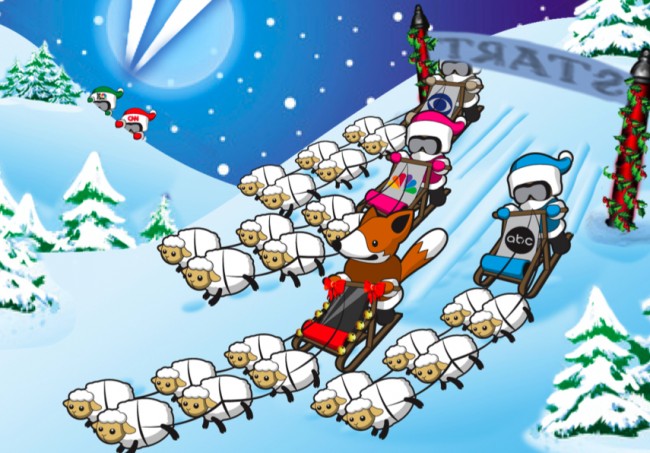 The cover features a fox (get it?) racing ahead of CBS, ABC, and NBC. Make sure to note the CNN and MSNBC characters peeking over the hill on the left. Detractors (ABC, CBS, NBC, CNN, and MSNBC) are sure to recoil at the bravado in the card, which is, of course, just the way Fox News likes it.
It gets better once you open the card. Instead of a simple "Season's Greetings!" there is this parody:
(Sing to the tune of "Joy to the World")
Joy to the world for Fox News Channel
Consistently number one
We are the network that viewers choose
Fair and balanced news
See our ratings we don't lose
Beating the rest in TV news

On things for certain, we're here to stay
As our fifteenth we celebrate
News-gathering redefined, our news channel's one of a kind
So many wished we would fail
But we proved we're far from frail
And winning we are as behind us they do trail

Our talent can't be matched, one can't deny
But sadly they still try
Bill O'Reilly and Hannity, Shepard Smith and Megyn Kelly
With Fox & Friends on the couch we sit
While Cavuto gives us a financial twist
We go live with The Five and tough questions Baier doesn't miss

Joy to the world for Fox News Channel
The most trusted name in news
The best in breaking news, exclusive interview
We are the ones to beat
Defeat we shall not meet
So into the background the rest do retreat
Give Fox News credit — they never miss the chance to remind you who sits at the top of the ratings, even if this instance is with a wink and a nod.
Have a tip we should know? tips@mediaite.com