Fox News To Run Media Matters Ad Critical Of News Corp. $1 Million GOP Donation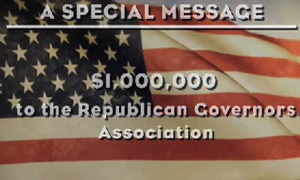 Politico is reporting that Fox News has agreed to run an advertisement created by media watchdog group Media Matters that is critical of News Corp. donating $1 Million to the Republican Governors Association. Last week Mediaite reported that some voiceover copy in the original iteration of the ad submitted to FNC did not meet the network's standards and brought into question how serious was MMFA's intent to run it, suggesting perhaps a very clever ruse to get more publicity. Turns out Media Matters accomplished both – extra publicity and running the ad on Fox News.
Writing for Politico, Keach Hagey reports:
After three rounds of changes, Fox News has agreed to run a Media Matters ad pointing out the cable network's parent company's $1 million donation to the Republican Governors Association.

"If Media Matters can come up with the money, we'll take the ad," a Fox News spokesperson told POLITICO.

A 30-second slot during the top-rated "O'Reilly Factor" costs $35,000, which Media Matters has been trying to raise from its supporters. The nonprofit liberal media watchdog group sent out a fundraising e-mail last week, reprinted by Mediaite, which suggested that the move might be a bluff.

Ari Rabin-Havt, Media Matters' vice president for research and communications, said the group raised some money from the campaign, though not the full amount. Nevertheless, it was ready to pay for the ad.

"I wanted to run this ad," he said. "I didn't go back three times to them for fun."
Last week, Mediaite spoke exclusively with Fox News EVP of Ad Sales Paul Rittenberg, who said, "We were happy to run the ad and were planning to move forward, but we made the simple request that they change the opening voiceover copy." Rittenberg continued "The spot that was originally submitted to us opened with 'And now, a special message from Fox News.' Not only is that incorrect, but no network would reasonably run an ad that falsely proclaims a statement that they never actually made."
Rittenberg further explained that there was a smaller, yet still significant, issue with the closing voiceover, which claimed that News Corp. had donated the money to "oppose Democratic Governors this Fall". Rittenberg said "Again, it was just a matter of being correct. We asked them to change it to 'Democratic candidates,' not 'Democratic Governors' as it was submitted," adding "we ask that all ads be as factually accurate as possible."
The second version of the ad submitted addressed both notes from the network, but the new voiceover still did not meet FNC's standards, opening with "And now a special message that Fox News prime time hosts refuse to tell you, brought to you by Media Matters for America." It appears that Fox News did not want to include the opinions of their prime time hosts.
In talking to Rabin-Havt, Mediaite learned that it was very important to Media Matters that the ad convey the fact that this story had received no coverage during Fox News primetime programming. So the approved version now opens with the line "And now, a special message about a story that's not yet been covered on Fox News primetime, brought to you by Media Matters for America."
The approved video can be seen below:
Have a tip we should know? tips@mediaite.com