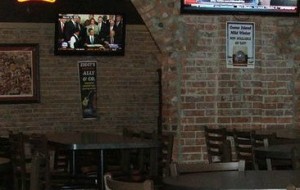 On the first day of his two-day, two-state bus tour, President Obama stopped off at Ziggy's Restaurant and Pub in Amherst, Ohio, to engage in a little retail politicking between speeches. The New York Times' Mark Landler, with an assist from Time's Michael Scherer, caught some of the President's conversations with the locals, including a joking (or not?) exchange about turning the bar's televisions away from Obama's not-so-favorite network.
The Obama White House has had a long, contentious relationship with Fox News, an antagonism that no doubt helps the network with its viewership, and helps President Obama with his base. At a campaign stop in Amherst, Ohio pub Ziggy's, NYT's Mark Landler caught the latest salvo, which will no doubt get some play on Fox's Friday air. From Landler's pool report:
Obama spoke to two couples who are administrators in the Lorain County school system. "That's important work," he said. "What do I need to know about education?"

The group engaged in a substantive discussion about No Child Left Behind.
"Kids aren't stupid," Mr. Obama said to the group. "They know when they're behind."

"We're giving states waivers, but we're holding them accountable," Obama said of the program.

As he thanked the group for their support, one of them, Jeff Hawks, gestured to one of the TV's and said, "You're in a building that has Fox news on."

Obama suggested that Hawks ask for it to be changed. "The customer is always right," he said.
The report doesn't say whether the channel ever got changed. Interestingly, the photo on the Ziggy's website features a television that displays the now-iconic image of President Obama signing the Affordable Care Act, with what appear to be Fox News graphics.
Toward the end of his report, Landler also corrects a most unfortunate typo from his earlier pool report:
The campaign's background on Amherst should NOT have said, "The political makeup of the city is 56.1% Democrat and 43.4% Republican. 96.84% of the population is white with African American, Native American, Asian, and other racists each making up less than 1% each of the population. 2.1% of the population."

Other RACES each make up less than 1%of the population.

Ahem.
Update: In case anyone thought otherwise, Landler filed an addendum to this pool report, as follows:
When President Obama told a patron at Ziggy's bar in Amherst, OH that he suggest that the TV be switched from Fox, he made the remark in a humorous exchange, as did in a subsequent exchange about arm-wrestling or playing basketball over the patron's vote.
Also, the President isn't really all that interested in the motivations of road-crossing poultry.
Have a tip we should know? tips@mediaite.com