Brad Pitt's Mom Writes Letter Slamming 'Barack Hussein Obama' Who 'Sat In Jeremiah Wright's Church'
Brad Pitt's Mom Writes Letter Slamming 'Barack Hussein Obama'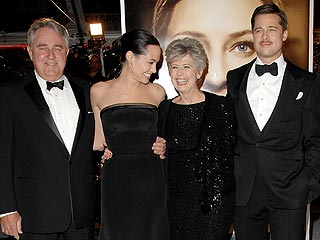 It's practically a given that family members will disagree on politics (particularly during holiday get-togethers featuring egg nog), but it's always slightly awkward when such disagreements play out publicly. Especially if one of the people involved happens to be a famous actor known, in part, for vocally supporting his political views.
While actor Brad Pitt had donated $100,000 to fight California's contentious Proposition 8 (and starred in a play about efforts to overturn the proposition), his mother, Jane Pitt, penned a letter to Missouri's News-Leader expressing her opposition to "Barack Hussein Obama" over his support for same-sex marriage.
Mrs. Pitt was writing in response to an op-ed piece advising Christians not to vote for Mitt Romney because of his Mormon beliefs.
I have given much thought to Richard Stoecker's letter ("Vote for Mormon against beliefs," June 15). I am also a Christian and differ with the Mormon religion.

But I think any Christian should spend much time in prayer before refusing to vote for a family man with high morals, business experience, who is against abortion, and shares Christian conviction concerning homosexuality just because he is a Mormon.

Any Christian who does not vote or writes in a name is casting a vote for Romney's opponent, Barack Hussein Obama — a man who sat in Jeremiah Wright's church for years, did not hold a public ceremony to mark the National Day of Prayer, and is a liberal who supports the killing of unborn babies and same-sex marriage.

I hope all Christians give their vote prayerful consideration because voting is a sacred privilege and a serious responsibility.
In case there was any doubt as to the letter-writer's identity, the News-Leader.com accompanied Pitt's letter with the following note: "To clear up earlier confusion, the News-Leader has verified the letter writer is the mother of actor Brad Pitt and local businessman Doug Pitt."
h/t News-Leader.com

Have a tip we should know? tips@mediaite.com