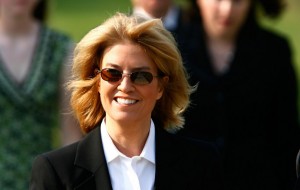 Oooo, Greta! You can always count on Greta Van Susteren's "GretaWire" blog to be — How to put it? — blunt as hell, and today's offering is no different.
Van Susteren took to her blog to address comments Senator John Kerry made on MSNBC's Morning Joe, where he opined that, when it comes to covering the debt crisis and the economy, the media needs to "stop making all arguments equal."
Van Susteren cuts right to the heart of the matter by basically asserting that Kerry does not want the media to lend credence to viewpoints he personally finds disagreeable or even absurd. Viewpoints that, let's say, go well with watercress sandwiches or crumpets. According to Van Susteren, this is "nuts."
She also offers this interesting little nugget of information:
Well..there is more to this. Do you have any idea how many times we have offered to give Senator Kerry air time on ON THE RECORD at 10pm? We have called many, many, many times for him to appear on ON THE RECORD at 10pm but he does not want to. Of course it is his choice not to appear but then he needs to quit whining if we dare to air an opinion different from his own.

I think he is attempting to intimidate the media from airing others' ideas. That is wrong. He is welcome anytime on ON THE RECORD at 10pm (he knows it) we will continue to call him. But…as note to him, we will also continue to book others with whom he disagrees. If he is so certain they are wrong, he is welcome to come on and tell us. I like to hear many viewpoints
In short, she says, Kerry should "quit whining" and, instead, promote the sharing of dissenting viewpoints by coming onto her show and saying his piece.
The cherry on the sundae here, however, is quite possibly her post script:
PS: Senator Kerry is a friend of my husband. I assume that Senator Kerry is well aware of strong willed wives.
Sen. John Kerry's remarks from MSNBC's Morning Joe:

h/t GretaWire
Have a tip we should know? tips@mediaite.com