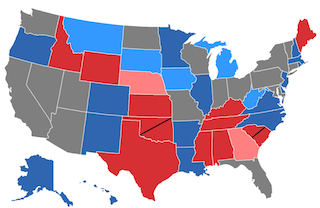 The 2014 midterm elections have finally arrived and voting is underway in all 50 states. There are plenty of major gubernatorial and congressional races — not to mention some crucial ballot referendums — all across the country, but all anyone in the political media really seems to care about is one thing: the Senate.
Conventional wisdom seems to be that Republicans will win the six seats needed to take over the Senate from Democrats, giving them control of both house of Congress for President Barack Obama's final two years in office. But if you ask Vice President Joe Biden, Democrats are going to maintain a two-seat lead in the Senate, so you never know until polls have closed. And even then, potential run-offs in Georgia and Louisiana have some pundits predicting we won't know which party really controls the Senate until January 2015.
Below are the 11 12 most competitive races of the cycle — the ones that will determine which way the Senate falls. We will be updating the winners throughout the evening as they are called so keep checking back here for the most complete picture of where things stand.
Alaska
Mark Begich* (Democrat) 45.6%
Dan Sullivan (Republican) 48.8%
Mark Fish (Libertarian) 3.7%
Ted Gianoutsos (No Party Affiliation) 1.9%
Arkansas
Mark Pryor* (Democrat) 39.4%
Tom Cotton (Republican) 56.6%
Nathan LaFrance (Libertarian) 2.0%
Mark Swaney (Green) 2.0%
Colorado
Mark Udall* (Democrat) 45.2%
Cory Gardner (Republican) 49.4%
Georgia
Michelle Nunn (Democrat) 45.1%
David A. Perdue (Republican) 53.0%
Amanda Swafford (Libertarian) 1.9%
Iowa
Bruce Braley (Democrat) 43.7%
Joni Ernst (Republican) 52.2%
Kansas
Pat Roberts* (Republican) 53.2%
Greg Orman (Independent) 42.5%
Randall Batson (Libertarian) 4.3%
Kentucky
Mitch McConnell* (Republican) 56.2%
Alison Lundergan Grimes (Democrat) 40.7%
David Patterson (Libertarian) 3.1%
Louisiana
Mary Landrieu* (Democrat) 42.1%
Bill Cassidy (Republican) 41.0%
Rob Maness (Republican) 13.8%
Run-off scheduled for December 6th.
New Hampshire
Jeanne Shaheen* (Democrat) 51.8%
Scott Brown (Republican) 48.2%
North Carolina
Kay Hagan* (Democrat) 47.3%
Thom Tillis (Republican) 49.0%
Sean Haugh (Libertarian) 3.7%
South Dakota
Rick Weiland (Democrat) 29.5%
Mike Rounds (Republican) 50.4%
Larry Pressler (Independent) 17.1%
Gordon Howie (Independent) 3.0%
Virginia
Mark Warner* (Democrat) 49.1%
Ed Gillespie (Republican) 48.5%
*Incumbent
Bold = Projected winner
—
Current Senate Breakdown:
Democrats: 46
Republicans: 53

51 seats needed for a majority; Republicans must pick up 6 seats.
[Photo via Wikimedia Commons]
— —
>> Follow Matt Wilstein (@TheMattWilstein) on Twitter
Have a tip we should know? tips@mediaite.com