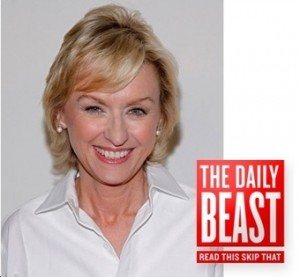 Credit where credit is due: Tina Brown is a publishing icon who has had an enormous impact on the way information is packaged and consumed. She is also lovely reminder of a bygone era of profitable and well-funded magazines that cost a lot of money to produce, but also afford a lavish lifestyle for their senior management. So it was with great glee that we discovered Gawker's Ryan Tate's delightful exegesis on Brown, in the context of her one and half year-old glossy website The Daily Beast.
In a fun read that evokes the best writing of snark progenitor Spy, Tate treats his subject in a tough, but fair manner; portraying Tina as one who is very much living in an anachronistic version of New York. You know, like ten years ago, when people had ridiculous amounts of money (but acted stupidly with it), Sex in the City was regarded as pastiche, and people used fax machines to exchange content. No, that is not hyperbole – according to Tate, when in London a staffer prints and faxes all articles published that day on The Daily Beast so that Tina Brown can read her website via fax!
It's worth reading as written:
Printing the book: Except, and this really is our favorite, there is one crucial role for paper and printers to play in the Daily Beast's daily operation: Apparently, each day, someone is tasked with printing up all of the stories published that day, so that Brown might have some way of reading them, and delivering them to her by hand. And if she's, say, visiting her old London stomping grounds? Then this sheaf would need to be faxed to wherever she's staying, probably her fave hotel, Ian Schraeger's Sanderson House. It would really be wonderful if someone someday invented an easier way to transmit words and images across the Atlantic.
Well played Mr. Tate.
Gawker and The Daily Beast aren't exactly direct competitors, but they do exist in the same universe. One would hope that Ms. Brown reads the Gawker piece and decide to immediaitely retaliate editorially against Gawker magnate Nick Denton. But for that to happen, a junior staffer might just have to fax this post to Tina, and that's seems unlikely to happen.
Update – Denton defends Tina in the comment section of Tate's post, and Gawker Editor in Chief Gabriel Snyder defends Tate:
Ryan, your tales of Tina Brown's sclerotic ways are delicious. It's the high-end tittle-tattle she has herself dealt in from Vanity Fair to her current venture. The Posner affair is an embarrassment. And there are those rumors that Barry Diller is getting impatient for revenues.

But where the hell is the to-be-sure paragraph? The Daily Beast may be an expensive proposition but it is one of the more successful web launches of the last few years. Helped by the American Idol revelations of a former colleague, Richard Rushfield, the site briefly overtook Gawker.com in January. The underlying trend is also upward.

Give credit where it is due — even if only briefly before you move on to mockery of Tina Brown's antiquated work rhythms.
Snyder responds:
Fair enough. No one's ever knocked Tina Brown an untalented editor. Just an unpleasant boss. But as a editorial entrepreneur, she's been too dependent on benefactors — some reliable, like Si Newhouse, and another less so, like Harvey Weinstein. The test for the Daily Beast is to find an equilibrium between Diller's interest level and Brown's spending habits.
From the Belly of the Daily Beast: The Onerous Apparatus of Tina Brown's Website"
Have a tip we should know? tips@mediaite.com