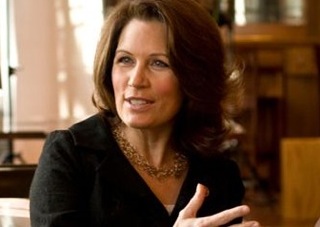 While most of her opinions– from her opposition to raising the debt ceiling to her foreign policy positions– have resulted in their fair share of controversy, it has been Rep. Michele Bachmann's comments on the LGBT community that have gotten her into the most hot water lately. In response, the gay conservative group GOProud has extended an invitation to the Tea Party leader to sit down with them and, among other things, "discuss issues important to gay conservatives."
GOProud's Executive Director Jimmy LaSalvia told Yahoo!'s The Ticket blog today that the invitation is not unique to Rep. Bachmann among Republican presidential candidates, and the discussion would not be limited to gay issues:
"We have requested a meeting with Michele Bachmann," LaSalvia told The Ticket. "We've made this request, as with the other requests, in good faith." He said GOProud officials intend to "discuss issues important to gay conservatives" with Bachmann and "anything she wishes to talk about."
While Rep. Bachmann's views on most issues aside from LGBT rights align fairly well with the GOProud mission, Rep. Bachmann's opposition to same-sex marriage– to the extent of supporting a federal amendment to ban its administration– and the recent controversy surrounding her husband's mental health clinic are bound to be sticking points in the discussion should Rep. Bachmann accept the invitation. While the group has been willing to overlook questionable comments on the gay community in the past– Herman Cain received a hearty defense from the group's chairman after stating in an interview that "homosexuality is a sin," but that he did not wish to regulate it– it appears that Rep. Bachmann's support of a federal marriage amendment is a bridge too far for the group. GOProud has expressed dismay in Rep. Bachmann, with Chairman Chris Barron recently telling Politico:
"We are certainly concerned about comments Bachmann has made about gay people and we are even more troubled by her support for a federal marriage amendment that would be the largest power grab by the federal government from the states in the history of our country," he said in an email. "Given her stated support for 'limited government' we wish Congresswoman Bachmann would reconsider supporting such a massive federal power grab."
As the invitation went out publicly today, there is no word yes as to whether Rep. Bachmann will accept the invitation, but if she does, it's guaranteed to be quite a lively conversation.
Have a tip we should know? tips@mediaite.com