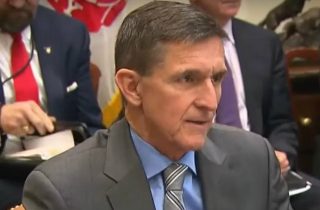 General Michael Flynn is officially back — and he needs your money.
President Donald Trump's former national security adviser ended his media silence today by taking to Twitter to solicit money for the "tremendous costs of legal representation" over his alleged involvement in Russia's intervention in the 2016 presidential election:
Lori and I are very grateful to my brother Joe and sister Barbara for creating a fund to help pay my legal defense costs. 1/2

— General Flynn (@GenFlynn) September 18, 2017
We deeply appreciate the support of family and friends across this nation who have touched our lives. https://t.co/O08co3DRpn 2/2

— General Flynn (@GenFlynn) September 18, 2017
Flynn hasn't tweeted since December 2016, so his sudden pivot back to the social media platform reeks of desperation.
But even more desperate? Playing the "respect the troops!" card, as plenty of words featured on his crowdfunding page were dedicated to highlighting his military service.
"Mike Flynn has served the nation for nearly four decades during time of war and peace, including nearly five years in combat. He has also received numerous awards and military decorations. He is a four-time recipient of the bronze star medal, as well as the intelligence community's gold medallion, and other civilian, law enforcement and defense honors," reads the page, a de facto way of thanking Flynn for his service.
The page continues with a grave plea:
"The costs of legal representation associated with responding to the multiple investigations that have arisen in the wake of the 2016 election place a great burden on Mike and his family. They are deeply grateful for considering a donation to help pay expenses relating to his legal representation."
Flynn has a long history of ties to foreign powers with less than stellar reputations, working as a lobbyist and businessman from Russia to Turkey. He moved onto work in both Trump's campaign and administration, but resigned once the media caught wind of a suspicious conversation Flynn had with a Russian ambassador. Now, he's wrapped up in Special Counsel Robert Mueller's probe into the president's recent Russia-related history.
The moral of this story — when it comes to accepting shady money from dictators and government's with questionable records, you better get enough to cover the potential legal costs, too.
[image via screengrab]
Have a tip we should know? tips@mediaite.com