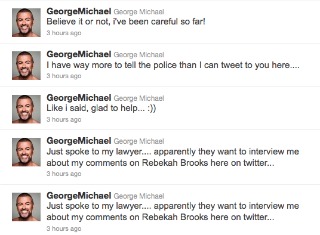 While News of the World staffers may still be licking their wounds now that their source of income has folded, one person absolutely thrilled with news of the paper's demise was… George Michael. Of course.
Earlier, we told you how the singer celebrated by calling the publication's end a "fantastic day for Britain" and published a series of Tweets demonstrating his less than favorable view regarding the paper's method of gathering information under its editor at the time, Rebekah Brooks:
"Rebekah Brooks sat two feet from me in my own home and told me that it was never the public that came to them with information," he wrote in a swiftly delivered series of tweets this evening UK time, "or celebrities, and that the Police always got there first." He went on to say that Brooks had not been invited into his home ("don't ask me how she got there"), that his accusations were "in no way an excuse for any of my behavior," but that his statements on "the NOTW's corruption of the British justice system was by way of public warning."
Now, George Michael has taken to Twitter once again, this time sharing that he's been asked to help in the ongoing investigation into the paper's phone hacking scandal.
"Just spoke to my lawyer…. apparently they want to interview me about my comments on Rebekah Brooks here on twitter…," he wrote. "Like i said, glad to help… :))" The singer continued, noting that "I have way more to tell the police than I can tweet to you here…. Believe it or not, i've been careful so far!"
Have a tip we should know? tips@mediaite.com