George Will: Americans Do Not Want 'To Give Up On The First African American President'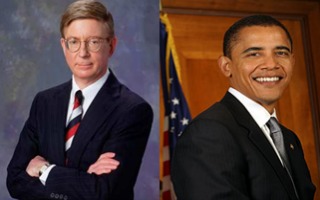 Conservative columnist George Will's latest column tackles the problems faced by GOP presidential nominee Mitt Romney as he makes the voluminous case against President Barack Obama, but is finding that case generating little traction with the persuadable electorate. He wrote that Americans may be speaking with their hearts if they go to the polls in November and vote to retain Obama. Will said that a significant factor in Obama's reelection may be his being the nation's first black president.

In his latest column, Will detailed the case against Obama – a case which would sink nearly any other president. Nevertheless, it is Romney who is behind and struggling with voters as Election Day approaches.
"Obama's administration is in shambles, yet he is prospering politically," Will wrote. "This may not, however, entirely be evidence of the irrationality of the electorate. Something more benign may be at work."
He related the story of the first African American baseball manager, Frank Robinson. But it was not Robinson's hiring by the Cleveland Indians that was the true milestone, it was his firing after a lackluster season that established true equality.
"The fact that the Indians felt free to fire Robinson — who went on to have a distinguished career managing four other teams — showed that another racial barrier had fallen: Henceforth, African Americans, too, could enjoy the God-given right to be scapegoats for impatient team owners or incompetent team executives," Will wrote. He went on to say that Americans may be sensitive to Obama's race as they consider their vote.
Perhaps a pleasant paradox defines this political season: That Obama is African American may be important, but in a way quite unlike that darkly suggested by, for example, MSNBC's excitable boys and girls who, with their (at most) one-track minds and exquisitely sensitive olfactory receptors, sniff racism in any criticism of their pin-up. Instead, the nation, which is generally reluctant to declare a president a failure — thereby admitting that it made a mistake in choosing him — seems especially reluctant not to give up on the first African American president. If so, the 2012 election speaks well of the nation's heart, if not its head.
Read the full column via the Washington Post
> >Follow Noah Rothman (@Noah_C_Rothman) on Twitter
Have a tip we should know? tips@mediaite.com