Getting Ahead Of Himself? Herman Cain Promises To Save Money By Toning Down His Inaugural Ball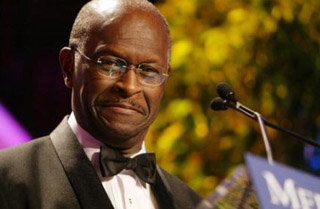 Herman Cain must be feeling pretty good coming off that Florida straw poll, because word has it he's looking long. The Daily Caller reports today that, even though not everyone really thinks he'll get so far as to need one, the Godfather's pizza magnate has already planned his inauguration. It will be a demure thing, Cain promises. He will waste not his time nor your money on gaudy, star-studded inagurual events. If he is elected, that is.
As Cain explains in his forthcoming autobiography, The Herman Cain Way, his prospective White House will function differently than it has in the past. Everyone will always have a copy of the Constitution on hand, and will be very serious about their jobs and America. "My guest lists for state dinners and other important occasions will be light on A-list celebrities and heavy on normal Americans who work each day to restore our nation to greatness," writes Cain.
Not that there will be too many events for A-listers not to be invited to, though, because as President, Cain will be pretty busy:
"I will reduce the number of protocol-oriented events that presidents are seemingly required to attend," he writes. "At a time of deepening national crisis, I simply cannot afford to allocate valuable time to things that do not advance solutions to this nation's problems."
So there you have it: Herman Cain, a determined and long-sighted candidate planning an only small and celeb-less party for his first inauguration. I would have at least wanted to invite Ryan Gosling or Lil Wayne to mine, but I guess I've never imagined I'd be much of a good president anyways.
h/t TPM
Have a tip we should know? [email protected]