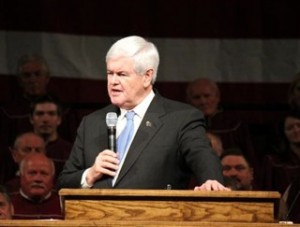 Leading up to tomorrow night's big debate between President Obama and Mitt Romney, former GOP candidate Newt Gingrich is offering some advice to his formal rival: be more effective in delivering your message. Gingrich told POLITICO that while this would normally be a "fairly easy" race for any Republican nominee this year, Romney's seeming inability to engage with people and the media with his message is proving to be a problem for his chances at victory.
RELATED: Newt Gingrich: If Obama's 'Believable' In First Debate, 'High Likelihood' He'll Win Election
Gingrich said that one of the Romney campaign's biggest problems is its inability to take its core conservative themes and turn them into more immediate messages to respond to breaking news. The campaign, in his view, needs to go beyond simply repeating the same talking points.
"I think that there are some people who advise the governor who believe that simple repetition of a mantra will get you there… And I explicitly don't believe that. I think you in fact have to engage the American people, which means you have to engage the news media, which means you have to take your mantra and fit it into very specific illustrations that fit that day's topics."
Gingrich warned that the "methodical slow careful way" the Romney campaign has been approaching thing lately puts them "out of step" with the media, and they suffer from an inability to win the argument as a result.
However, Gingrich did acknowledge the inherent challenges of being a conservative having to "conflict with" a vast majority of the national media, and emphasized the importance of a Romney victory over President Obama.
h/t POLITICO
—–
Follow Josh Feldman on Twitter: @feldmaniac
Have a tip we should know? tips@mediaite.com
Josh Feldman - Senior Editor