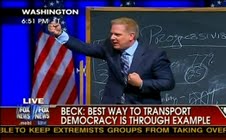 The answer to your first question is yes, Glenn Beck brought his chalkboard with him to his CPAC keynote address. Secondly, judging by the crowd's (and Twitter's) reaction, the 'right' Glenn Beck showed up tonight. Actually, all things considered, I think the Beck that showed up tonight could be described as fairly tame. Maybe he was worried excessive dog barking might turn the crowds off (or not). Suffice to say, those of you who were hoping for a refresher course on early 20th century American presidents will not be disappointed.
If you're a regular watcher of Beck, than tonight's speech offered nothing terribly new beyond further proof that Beck has both firmly segued into the mainstream and evolved far beyond his mere role a cable news host. Actually, I suspect this was geared as a bit of a Beck 101 introductory hour for those CPAC folks who may not yet be familiar with him (only CSPAN and FOX carried it live). He certainly touched on all the usual talking points: Van Jones, Progressives are bad ("they're the cancer eating at the constitution"), Teddy Roosevelt very bad, Woodrow Wilson evil, we're coddling our children, our spending is out of control, etc. That said, Beck continued to not mince words when it came to the Republicans, whom he compared to Tiger Woods and/or alcoholics (Beck, himself, is a recovering alcoholic): "I have not heard the people in the Republican party yet admit they have a problem…I don't know what they stand for anymore." (Video below.)
Also, interesting to note how few times Beck mentioned President Obama by name (only once directly). Instead, progressives primarily played the part of the evil villain in Beck's world view (tonight's version, anyway). Conservatives, meanwhile, were called on to work harder and aim higher: "It's not enough to just not suck as much as the other side." This was very much a speech about people and parties taking personal responsibility. Time will tell whether it also becomes a talking point in the upcoming midterms.
We hope to have video up of the full speech at some point later tonight (UPDATE: full video here), in the meantime the video clip below is the last twelve minutes of the keynote address during which Beck theatrically explains the 'origins' of the Statue of Liberty (what are we, a hospital?!") to great applause before concluding with what could accurately be described as a national self-help pep talk.
"We are going to go through some tough times, and we are going to be tired as we set things straight…It is a hard road, I know, I have walked it myself. It is a hard road. But we will make it. And at night, we will be beat tired. We will be so tired…"But when we put our head down on our pillow to go to sleep again that night, we can be happy because we know tomorrow it will again be morning in America."
Related: Glenn Beck's CPAC 2010 Keynote Address (Full Video)
Beck talks tough to the GOP.




Have a tip we should know? tips@mediaite.com