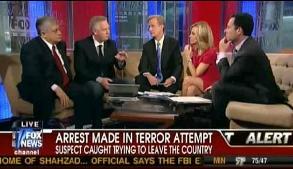 It was a packed curvy couch on Fox & Friends this morning, as Glenn Beck and Judge Andrew Napolitano joined the trio of co-hosts for a discussion on Miranda rights for the Times Square bomber.
The Judge naturally went the hardline judicial route, arguing he deserves to be Mirandized because he's an American citizen, and Beck…agreed 100%.
The Right Scoop caught the exchange this morning, which featured a determined Beck squaring off against Brian Kilmeade, who wanted to make an exception. "He's a citizen of the United States, so I say we uphold the laws and the Constitution on citizens," said Beck.
"He's a threat to the country, that's different," countered Kilmeade.
"If you're a citizen you obey the law and follow the Constitution," said Beck. "He has all the rights under the Constitution."
Later, the money quote from Beck: "We don't shred the Constitution when it's popular. We do the right thing."
It will be interesting to see if Beck expands on this theory on his 5pmET show tonight, which will surely dismay some of his conservative viewership. But Beck has proven himself to be a Constitutional stickler…even when, as he says, it may be unpopular (with his base audience).
Seeing Beck, who is notoriously tough on terrorists (including the Christmas Day crotch bomber), push so strongly for this terrorists Miranda rights highlights the discrepancy in his mind – when it comes to American citizens, the Constitution trumps all. Still, he did let a caveat slip in that in times of officially declared war, his mind could change.
On Twitter, Glenn Greenwald wrote, "What makes the Right's yelling about Mirandizing even more twisted than usual is that the suspect is as much of a U.S.citizen as they are."
Well Greenwald has found an unlikely ally in another Glenn.
Check out the segment:


—–
» Follow Steve Krakauer on Twitter
Have a tip we should know? tips@mediaite.com