Glenn Beck Compares Boston During Manhunt To Nazi Germany: 'You Can Live In Your Little Dream World'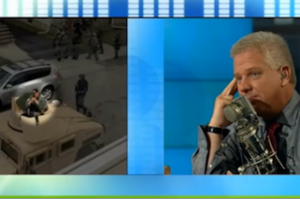 "You can live in your little dream world." That's Glenn Beck's advice for anyone who didn't see the similarities between the lockdown in Boston earlier this month and Nazi Germany. On his radio show today, Beck reflected on time he spent at Auschwitz and how the police going door to door to search for the Boston Marathon bombing suspect reminded him of how the Nazis searched for Jews during the Holocaust.
The "frightening looking" photo that inspired Beck's rant was originally posted on (where else?) Alex Jones' InfoWars website and shows a man in a tank pointing a gun at a resident who is presumably taking the photo for an upper floor of their suburban Watertown home.
The reason why Beck found the photo so "frightening" he said, goes back to the time he visited the Auschwitz concentration camp and started to ask himself how people could allow the Holocaust to happen, when people's neighbors "were just dragged out into the streets." In Beck's telling of the history, if non-Jews so much as looked out their windows when the Nazis were rounding up Jewish people, "they killed you and your whole family."
"So there were no eyewitnesses to anything because they had trained them," Beck said. "You make that mistake one time and the entire neighborhood and the town realize when they say stay in the house, they mean stay in your house. When they say don't look out the window, don't approach a window, don't look at what's going on, you don't or they'll kill you."
Beck warned his listeners that if they don't think the same thing can happen in modern-day America, they are wrong. "You can live in your little dream world," Beck said, because "everything that has happened so far, we have told you would happen and everybody said it wouldn't happen."
It's not entirely accurate to say that everything Beck has predicted has come true. In the days following the Boston attack, Beck put a great deal of focus into a conspiracy theory surrounding a deported Saudi man who he believed had something to do with the bombings. With that theory thoroughly debunked by Beck's old employer Fox News and others, he has apparently moved on to a new angle.
Watch video below, via Glenn Beck:
H/T Right Wing Watch
—
>> Follow Matt Wilstein (@TheMattWilstein) on Twitter
Have a tip we should know? tips@mediaite.com