Beck: David Carr's Dig At The Midwest Is The Sort Of Comment That 'Leads To Mass Death'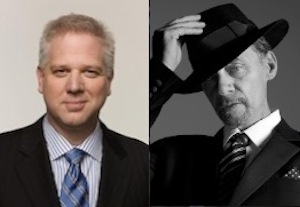 Today Glenn Beck took major exception to a comment made last Friday by NY Times' David Carr during an appearance on Real Time with Bill Maher. While responding to a critique of Gov. Chris Christie's leadership of New Jersey — a "smart state" in the eyes of Maher — Carr took a swipe at the residents of Kansas and Missouri, specifically describing their "low-sloping foreheads." It was clearly a joke (an offensive and unfunny one), but in Beck's eyes, this is the sort of comment that "leads to death camps."
Carr has since apologized. Time will tell if Beck follows suit for his Godwinian infraction, but I'm prepared to issue a ruling that they're both losers in this feud.

Carr's appearance on Real Time seems to be part of a larger publicity tour for the NY Times documentary Page One, in which he is featured rather extensively. Alas, the rather tiresome publicity campaign reminds even Carr's most ardent fans that the scarcity of his product is one of his greatest assets. The comment he made on Maher's show illustrates what many already think of the Minnesota-raised (and imprisoned) writer, who is known for an earthy, neo-folksy wisdom, from a regular guy perspective. His "age of realism" journalistic style would make even Gustave Courbet blush. (Yeah, I just referenced Courbet. It happened. Deal.)
Here's the clip of Carr's remark, from HBO's Real Time web-only "Overtime" segment:
Disclosure: I worked with Mr. Carr at the offices of Inside.com back in the late 90's, where he and I smoked many a cigarette in the stairwell of the Sterrett-Lehigh building where we worked. He was brand new to NYC then, having just moved up from his job at The Washington City Paper, and I found him to be remarkably friendly, and proud of his own Midwestern heritage. I like to imagine that the attention he's received from his job at the Times, and the movie, of course, hasn't changed him at all. Alas, his comments on HBO belie that. His subsequent Twitter apology perhaps demonstrates an inner struggle for his geographic soul:
to all of America, at least the middle place that I come from, I apologize for saying something so, so dumb on Bill Maher last night. #choke
Second disclosure: I grew up in the state of Kansas, and remain close to many friends who still call it home. I know that Carr wasn't really calling out Kansans and Missourians (mostly because everyone knows that its impossible to lump the two together: Missouri was a slave state, Kansas, a Free state). While Carr's apology, along with my inclusion of the fedora-doffing photo that I know he hates, go a long way toward penance, a smart, fun to read column explaining the dangers of being overexposed would earn my forgiveness.
As for Beck's comments, it's tempting to dismiss them as simply his latest attempt to make partner at Godwin's Law Firm, but to compare what Carr said to the sort of violent rhetoric that leads to mass death, or death camps, is more than absurd. It is offensive.
Clearly, Carr was making a joke, or was using hyperbole to deride red state vs. blue state politics. Yes, what he said was offensive and dopey, but to immediately compare it to death camps not only trivializes that tragic chapter in world history, the greater offense, but it infantilizes Midwesterners. We're a hardy lot, and not so thin-skinned that an ill-advised wisecrack is going to send us to the mattresses, ready for the coming cow-pocalypse.
Both Beck and Carr are guilty of using irresponsible hyperbole to make larger, ironically detached points. When levels of irony build upon one another like this, the whole thing because so disposable that it inevitably disappears into the ether, completely devoid of meaning. That's what I expect to happen with this brief kerfuffle between Mr. Carr and Mr. Beck.
But until then, please listen to the audio clip of Beck tearing down Carr:
(H/T
MMFA
via
HuffPost
)
Have a tip we should know? tips@mediaite.com