Glenn Beck: Ed Schultz Is A 'Piece Of Trash' Who Represents Why I'm Leaving Television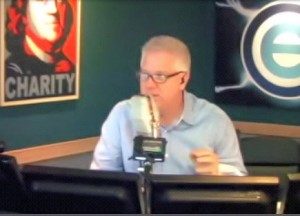 On his radio show today, Glenn Beck defended himself against claims from some that he was pointing at a picture of President Obama and urging his viewers to get a gun. Specifically, since MSNBC's Ed Schultz claimed Beck went 'way too far' this time, Beck singled out this "piece of trash" as exemplifying what's wrong with television and why he's happy to be leaving it.
When Beck's sidekicks heard that Schultz complained about Beck's behavior, they jokingly referred to Schultz's own past and asked, "did you just call a random woman a dirty slut or something?" Beck responded to Schultz:
"This guy is such a piece of a trash . . . he is such an unbelievable . . . is there no honor in this industry? . . . That is why I am leaving television. There is no honor in it. No one is honorable."
Beck argued that he didn't point to Obama's picture at all, and instead "I was pointing to the chalkboard [which said 'prepare' on it], but the camera angle made it look like I was pointing to the screen behind me." Despite the fact that Beck stood up for Schultz in the past, he didn't expect anyone on television to give him the benefit of the doubt in return. Whether Beck's critics will believe that the camera angles are truly to blame, Beck does deserve credit for acknowledging and trying to distance himself from the impression any might have had that he actually was pointing at Obama and discussing guns.
Listen to the clip from The Glenn Beck Program below:

Have a tip we should know? tips@mediaite.com