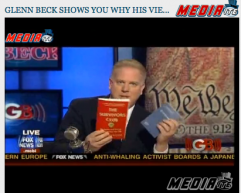 Turns out we are not the only ones paying attention to Glenn Beck's immediate influence on the world of book sales. Glenn Beck apparently also has an eye on the rocketing Amazon rankings of the books he recommends (even the evil ones!). During a segment on yesterday's Presidents Day show that focused on Lincoln and promoted the book 'Lincoln at Peoria' penned by his guest Lewis Lehrman, Beck boasted that every book he mentioned skyrocketed right up the sales charts proving, among other things, that his viewers were the smartest ever. (Video below.)
"Last week I mentioned three books on air…Friday all three of these were in the top ten…Don't let anybody tell you, [cue funny voice] oh you watch Glenn Beck, oh you're just a dumb-dumb-dummy. This audience reads more books than I think any audience I've ever witnessed."
I checked and during yesterday's show, 'Lincoln at Peoria" ranked #25,689. It is currently at #251. Not top ten exactly, but not too shabby either considering it's a "careful, balanced look at Abraham Lincoln's stirring 1854 Peoria, Ill., speech, writer and historian Lehrman finds a 'prelude to greatness' that put the little-known lawyer and politician on the path to national prominence while laying the intellectual groundwork for his presidency."
In related news, perhaps WaPo writer Dana Milbank (who apparently recently cottoned on to what we've been aware of for quite some time, ahem) is hoping for a similar boost in sales for the book on Beck he has reportedly been signed to pen. From Politico:
Milbank, who only had about 750 words to tackle that question in his Washington Post column, is now writing a book on the conservative radio and television host: "Tears of a Clown." And he's already started researching.

"I've signed up for the elite membership on GlennBeck.com," Milbank told POLITICO.

Milbank said that what sets Beck apart is a willingness to go where other hosts will not. "I think he has a lower bar, and commercially, it's pure genius," Milbank said. "He has found the absolute sweet spot in the market right now."
No kidding.
Related:
Glenn Beck [Mediaite]




Have a tip we should know? tips@mediaite.com