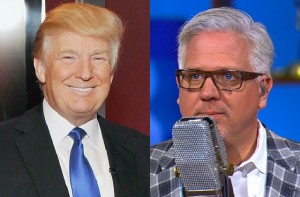 Glenn Beck admits that he got fooled by an Internet hoax into believing Donald Trump voted for Barack Obama in 2012, but he kicked off his Monday morning radio show with a non-apology apology, clarifying that though his evidence may have been bogus, he's still pretty sure The Donald helped Obama get elected.
This all began over the weekend when Beck retweeted a Nov. 2012 tweet supposedly from Trump, in which he congratulated President Obama on winning a second term and signaled that he had cast a ballot for the Democratic incumbent because "I always vote for the winners."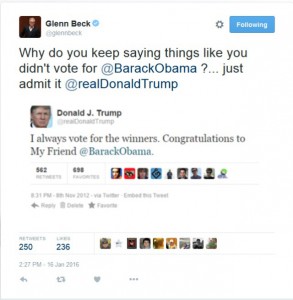 It's a piece of pretty damning evidence, and it supports Beck's long-held contention that Trump is a progressive wolf in GOP sheepskin. The only problem — the tweet was a hoax.
Beck began his TheBlaze Radio show Monday with a mea culpa that segued into a doubling-down on his assertion that Trump voted for Obama. In 2008:
"I recently retweeted a tweet from Donald Trump that indicated he voted for Barack Obama. This tweet was a hoax, and I apologized to Donald for reposting it."
Beck also poked fun at his credulity with a limp, disconcerting joke that he had also fallen for an online scam that told him "if I just forwarded a chain letter to 100 friends, Bill Gates would give $1 million to an orphanage that treats children without eyelids."
Beck protested that the fake tweet had seemed so credible was because it was consistent with the evidence he had been assembling over the years, all of which coalesces into a "strong circumstantial case" that Trump cast a vote for Obama during his first election. The sleuth proceeded to outline a 17-point argument to bolster his case, which he reprinted in full on his Facebook page:
Beck cited Trump's past as a registered Democrat and history of giving financial support to Democratic candidates. He also lambasted the tycoon for having been "among the fiercest critics of the Bush administration," and the fact that he had frequently described the invasion of Iraq as a "disaster."
In a neat little parry, Beck did not actually come out and defend the Iraq invasion — but merely noted that if someone condemned the military action back in 2008, they had scant options at the voting booth outside of the junior senator named Barack Obama:
Given his opinion on Iraq, consider Trump's available choices as he looked back: one candidate on record opposing the war, one candidate on record passionately supporting "one of the worst decisions ever made." Why wouldn't he vote for Obama?

Similarly, given his opinion on Iraq, consider Trump's available choices as he looked forward: one candidate on record saying he would end the war, the other on record saying he would escalate it. Why wouldn't he vote for Obama?
Of course, no insult is too petty for Trump to leave unanswered. And the real estate mogul took issue with "this idiot named Glenn Beck" espousing these lies about his voting record. "The reason [Beck] doesn't like me," Trump explained Saturday at a rally in New Hampshire, "is that I didn't do his show." He further described the former Fox News host as " a failed guy," and "a dopey guy" who "looks like hell."
Beck's latest hedge is unlikely to endear him to The Donald, but it might earn him a fresh wave of insults.
[h/t The Blaze]
—
Follow Sam Reisman on Twitter: @thericeman
Have a tip we should know? tips@mediaite.com