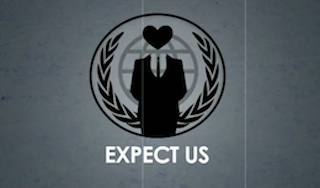 Huh. Well, this seems like an odd strategy.
While most of our attention has been focused on the different shows over at Glenn Beck's network GBTV, he's got quite a lot else on his plate. Like The Blaze, book publishing, and his group discount site. In addition to all those, there's also Mercury One, his charitable organization designed "to inspire, organize and mobilize individuals to improve the human condition." With a huge "Restoring Love" rally coming up in just a few months, it's time for the organization to ramp up the publicity, however, they've chosen a strange way of doing that; by releasing an enigmatic video that directly antagonizes the "hacktivist" group Anonymous.
The video, entitled "Anonymous for Good" and posted on Beck's official site last night, features a direct imitation of the group's logo and plays like a parody of Anonymous' typical mission statement videos complete with a garbled, computerized voice. Here, however, the question mark in the logo has been replaced with a heart and the voice is explaining how Mercury One will fight back against the "evil" that has "had its way with this country and throughout the world."
It's not unusual for a start up to parody a known entity to get their name and mission out there, and Beck has made his feelings about Anonymous clear in the past. Also, Anonymous' support for the Occupy movement and Middle East protests makes them a quick shorthand for the kind of thing Beck wants his organization to stand up against. Still, you have to think that antagonizing a group as powerful as Anonymous is kind of an unnecessary risk.
More to the point, I'm sure the multitudes of tech-savvy people that Beck has been hiring in the past year know about this risk. So why are they doing it? Don't they know how much unwanted attention they can acquire? Or is that the point? I mean, this isn't the first time we've wondered about the wisdom and motivation of Beck needling Anonymous.
Obviously, it's respectable to show how unafraid one is in the face of criminal action. But, really, any possible gain that a young charitable organization could get from getting on Anonymous' bad side seems pretty darn low to us. We can't help but ask, "Why?" Lets hope they know what they're doing.
Watch the video from Mercury One below:
Have a tip we should know? tips@mediaite.com