Glenn Beck Throws So Much Shade at Joe Scarborough in Open Letter to Megyn Kelly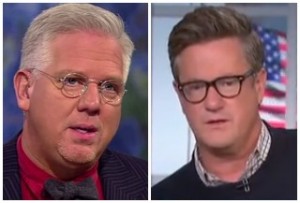 Joe Scarborough advised Megyn Kelly this week to be careful about leaving Fox News and ending up like Glenn Beck, so Beck fired back at Scarborough––very indirectly––in an open letter to Kelly.
Kelly has publicly broached the prospect of leaving Fox News in the near future, and whether she's serious or it was just her negotiating her contract in public, Scarborough said it may not be the best move for her career. Why? He pointed to Beck, who has been running a respectable media empire over at The Blaze for the past few years, and said leaving Fox made him far less relevant.
Beck wrote an open letter to Kelly on Medium last night praising the hell out of Kelly and saying that working at Fox is a "remarkable experience" and far preferable to, say, "a morning show you don't own, on a network that no one watches, where your opinion is controlled and dismissed."
Gee, wonder who he's talking about there…
Here's another hint:
Imagine if when you walked the halls people would whisper that you were only there as a 'token' to provide a 'balanced' perspective but not because you had any talent?…

I am an incredibly imperfect messenger, but at least I don't have to become a "supporter" of a candidate for ratings as they shower me with inauthentic praise and promises. Or, even worse, pretend to support a candidate (while pretending I don't), just to keep the candidate coming on my show to inch (literally) up my ratings.
Yes, there is so much shade being thrown at Scarborough and Morning Joe throughout Beck's entire piece that it's actually kind of amazing.
Beck almost broke the trend with this observation:
It is almost as if I was only using this opportunity to transparently and indirectly address someone or something that had nothing whatsoever to do with you or your career. Could you imagine how sad it would be to feel compelled, of your own volition, or by someone else's, to use a topical story as cover to take shots at someone who your own mother loves?
And yes, in case you're wondering, Scarborough admitted his mother was a fan of Beck's and Beck happily sent over an autographed picture a few years ago.
[h/t The Blaze]
[image via screengrab]
— —
Follow Josh Feldman on Twitter: @feldmaniac
Have a tip we should know? tips@mediaite.com
Josh Feldman - Senior Editor