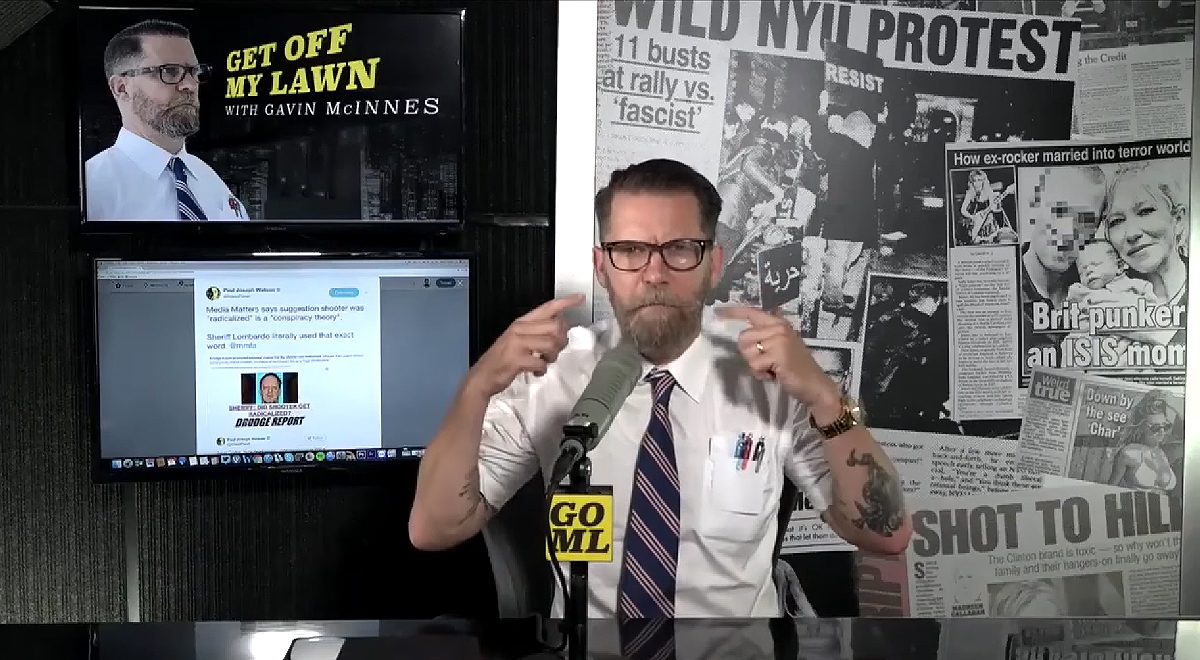 On Saturday night, the new Blaze Media — by way of the BlazeTV brand created by the merger with streaming service CRTV — cut ties with long-time CRTV host Gavin McInnes, controversial founder of the Proud Boys.
In a YouTube video just a few weeks ago, McInnes did himself cut ties with the activist group he founded, The Proud Boys, which has been in high profile brawls resulting in arrests in the last few months. The group has been accused of being racist and white supremacist, a charge McInnes denied in his video about leaving.
A tweet, from @CRTV which is now identified as BlazeTV following the merger last week of the two companies, said the company cannot comment on personnel matters.
Blaze Media no longer has a relationship with Gavin McInnes, and per company policy, cannot comment on personnel matters.

— BlazeTV (@CRTV) December 9, 2018
Nevertheless, Mediaite reached out to contacts at The Blaze and the former CRTV for comment but did not receive an immediate response.
The evening the merger was announced, fellow former CRTV host Michelle Malkin announced via Twitter that she would not be joining her colleagues at the new entity. So McInnes is the second departure and, noticeably, both were of the farthest right side of the programming. And by noticeably, we mean that the farthest right noticed.
Gavin McInnes is awesome! Cancel your CRTV subscriptions

— Jacob Wohl (@JacobAWohl) December 9, 2018
Many are blaming Glenn Beck himself.
Glenn Beck comes in and suddenly Michelle Malkin and Gavin McInnes are gone… hmmm.

— Michael Moates ⭐️⭐️⭐️ (@freedom_moates) December 9, 2018
1st @michellemalkin now Gavin McInnes… I knew Beck's PHONYSERVATIVE network was doing to ruin CRTV and it's begun before they've even made any content. Glenn Beck is EBOLA to real conservatives. Everything he's involved in is a massive disaster. Is @scrowder next? I bet he is? https://t.co/TGFbQddnaW

— HaitianLeg (@HaitianLeg) December 9, 2018
And some are taking Wohl's advice, cancelling subscriptions and posting the images on Twitter.
And I will be asking for a refund. I paid for CRTV, not Glenn Beck. I mainly joined because of Gavin McInnes. So, goodbye ? pic.twitter.com/QnRdqwcIA4

— Paul C (@Shotgun_Paul) December 9, 2018
Blaze Media's announcement of the new company and branding said that BlazeTV "brings together the biggest conservative voices from around the country to a single platform for the first time ever." Currently still on the roster are hosts former Fox News host Eric Bolling, Duck Dynasty star Phil Robertson, FNC contributor Deneen Borelli, and of course the faces of the two merged companies, conservative radio star Mark Levin and Glenn Beck himself.
With the merger, the CRTV shows will potentially become part of the cable TV lineup for BlazeTV. It's hard not to see the difference between the list of mainstream names that remain and those that were cut.
[Featured image via screengrab]
—
Follow Caleb Howe (@CalebHowe) on Twitter
Have a tip we should know? tips@mediaite.com
Caleb Howe - Contributing Editor