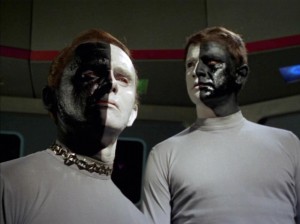 Tuesday saw yet another chapter in the ongoing feud between the guy who makes Nazi references, and the other guy who makes Nazi references. Keith Olbermann responded, via Twitter, to a post by Glenn Beck's The Blaze.com, which was, itself, a response to Olbermann's viral video attack on Beck. It was only a couple of tweets, but they somehow managed to amp up the irony of the original attack, in which Olbermann heckled Beck's TV prospects from the lofty perch of a web-only video.
The Blaze's Nick Rizzuto kicked off this round, tweeting a link to a Blaze post on Monday's viral video missive, adding:
After @keitholbermann is through running (what's left of) Current TV into the ground, we'll revisit this.
The irony here, of course, is that the point of the story Rizzuto tweets is that declarations of just this type are the stuff that crow-eating is made of.
Olbermann then responds to Rizzuto by mocking his tiny…follower count, and arguing that Beck, who's still on TV, has already suffered career death:
@Nick_Rizzuto "we" being your massive list of 243 followers who hang on your master's every belch
@Nick_Rizzuto besides which, he's already bleedin' demised
It's unclear where Beck stands on the issue, but Keith Olbermann is very invested in the idea that he and Beck are not the same. In some ways, he's right. Beck is the guy who calls women who use Planned Parenthood "hookers," and Olbermann is the one who makes fingerbang jokes about Carrie Prejean. Got it.
But with the duo crossing paths on their respective ways in and out of television, each trying to establish a new beachhead for his brand, they're starting to resemble Bele and Lokai, the Star Trek characters who are locked in eternal combat because they don't like the way the other guy wears his makeup. Come to think of it, that was a pretty good episode.
Have a tip we should know? tips@mediaite.com