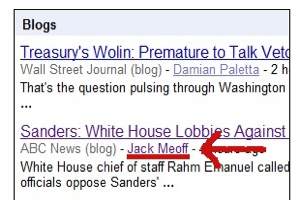 Well, this is mature. Last Thursday, the watchful eyes at Raw Story noticed that, listed among the incoming day's news was a post by a correspondent at ABC News they had not heard before: one Mr. "Jack Meoff." Once they clicked on the story, they noticed it was a report on Congressman Bernie Sanders' comments in favor of auditing the Federal Reserve, and Chief of Staff Rahm Emanuel's comments against this. The actual author on the ABC News page? Jake Tapper.
From the Raw Story report:
In the long lineup of breaking news reports, an entry with a phony, vulgar author credit — "Jack Meoff" — pointed directly at a story by Jake Tapper, a senior White House correspondent at ABC News.

It does not appear to be a technical error, in that domain searches for "Jack Meoff" on ABCNews.com yielded no exact results — the implication being that a human likely created the author entry.

The author entry for "Jack Meoff" appears to be relatively new, with no other articles credited to it.
The report continues to say that ABC News, Google News and Jake Tapper have not responded to requests for comment. As of now, Mr. Meoff does not appear in the list of Google News authors, and the article seems to have been pulled from the system as well (though it is still on the ABC page). If there was a scandal, it seems to have been rapidly erased before anyone else noticed.
So, what happened? Is this a response to some similarly low-brow prank from ABC to Google? Highly unlikely, not the least because there seems to be no motive there. Was Thursday Take Your 13-Year-Old Son to Work Day at Google News? Is it an insidious attempt by the Federal Reserve (or someone with a crude sense of humor?) to threaten Tapper into not covering stories about legislators who want to audit it? Actually, there's a very high chance it was a prank by some intern on a slow-news Friday, but if there was ever a story around which it's fun to make up conspiracy theory scenarios, it's this one.
Have a tip we should know? tips@mediaite.com