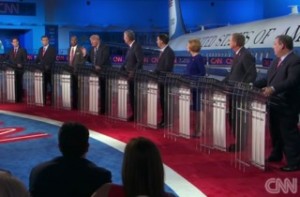 The landmark 2010 Supreme Court decision in Citizens United v. FEC was seen favorably by the GOP's base when it happened, but as the race for the Republican presidential nomination heats up, the superPAC donors who once benefited from the potentially unlimited amounts of cash raised by independent groups have become skeptical.
According to The Hill, Republican frontrunner Donald Trump is running a relatively cheap campaign, leaving those who donated millions to campaigns for Jeb Bush, John Kasich, Scott Walker, and Rick Perry confused and angry.
Certainly, this election cycle has changed the way voters and politicians look at campaign donations and spending. Trump is mostly funding his own campaign, and has disavowed nine superPACs while calling on his Republican challengers to do the same. On the Democratic side, Bernie Sanders is refusing corporate funding, and has only accepted donations from private individuals. Sanders broke records last month when it was reported that he has received contributions from two million individual donors. The majority of Sanders's contributions have been under $30.
In contrast, one of the disillusioned super-donors interviewed by The Hill, John Jordan, spends "millions on politics, largely through his own super PACs" even though he knows "big money is less and less important [in politics]."
The confused, jaded sentiments among donors seem to stem from the lackluster performance of candidate Jeb Bush, who has amassed $103 million in donations from the superPAC Right to Rise alone. Bush has been consistently polling around sixth place among Republican candidates.
Still, donors are rallying around Right to Rise leader Mike Murphy, if only because they aren't sure what else to do. They're in for a whole lot of pennies.
[image via screengrab]
For more from Lindsey, follow her on Twitter.
Have a tip we should know? tips@mediaite.com