What Time Is the Powerball Drawing? All the Info You and Your Coworkers Need to Know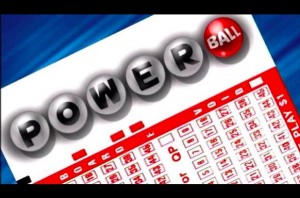 If you're reading this, chances are that you are currently sitting on your small stack of Powerball tickets and having goofy conversations about what you're going to do with all of your winnings. Oh really? A trip to Maui, huh? Original. Oh I see, you're gonna pay off your student loans? Still probably wouldn't be enough money. What's that Hillary Clinton? You're gonna use your Powerball winnings to "fund your campaign"? Good luck with that.
All joking aside, this lottery has seen a record number of tickets purchased and untamed enthusiasm everywhere you look (unless you're in one of the six states that doesn't sell lotto tickets, in which case, the closest 7/11 the next state over). The record jackpot for the Powerball drawing Wednesday night sits at $1.5 billion officially, and Texas state Lottery officials have already announced that is no one wins, the next drawing will skyrocket to an even $2 billion.
The drawing is officially scheduled for 10:59 p.m. ET, and the Powerball website sill be offering a live stream of the event. Many local television stations will also be broadcasting the event, and viewers can check their local listings through the Powerball site.
Powerball Megamillion tickets are $2 each, and 44 states sell tickets for the drawing. Oh, and the odds of winning Wednesday's drawing are 1 in 292 million.
#Powerball Fact: So far, 14 jackpots worth over $300 million have been won! pic.twitter.com/rtEDqjalfs

— Powerball USA (@PowerballUSA) January 13, 2016
The good folks over at FiveThirtyEight have pulled together some of the staggering statistics surrounding the Powerball frenzy. For instance, how many tickets would you guess are being purchased in anticipation of tonight's drawing?
Try 1.008 billion on for size, according to 538. In case you were unsure, the estimated population of the United States is only 330 million.
And if you and your coworkers have purchased a bunch of tickets and have some grandiose ambitions to ride the easy train for life, please make sure you reference the right day's numbers before you celebrate hysterically.
UPDATE: The winning numbers are – 4-8-19-27-34 Powerball of 10
Have a tip we should know? tips@mediaite.com