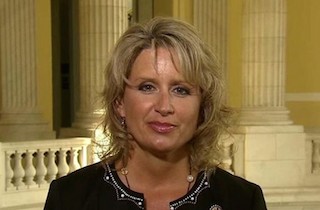 On Wednesday night Republicans withdrew the long-debated abortion bill when it failed to receive the support of a number of female GOP lawmakers.
The "Pain Capable Unborn Child Protection Act" would ban abortions after 20 weeks based on the widely-disputed claim that it's when infants begin to feel pain. (President Barack Obama had issued a veto threat over the bill on Tuesday.) The bill's passage was intended to coincide with today's anniversary of the Roe v. Wade decision, which anti-abortion groups mourn with the March for Life in Washington, D.C.
But a group of lawmakers raised objections to provisions they felt would only further entrench the party as hostile to women voters. Of especial concern was the rape provision, which allowed exceptions only if a rape had been reported to law enforcement.
The initial bill did not contain even this limited exception, and debate over it in 2013 caused yet another politically embarrassing soundbite for the GOP over rape, a sour reminder of the Todd Akin debacle and an example of what some objecting lawmakers were trying to avoid. (The whole "masturbating fetuses" thing wasn't a high point either.)
"We got into trouble last year, and I think we need to be careful again; we need to be smart about how we're moving forward," Representative Renee Ellmers (R-NC), one of main objectors, had said at a GOP meeting. "The first vote we take, or the second vote, or the fifth vote, shouldn't be on an issue where we know that millennials—social issues just aren't as important [to them]."
After criticism Ellmers reiterated her support for the bill on Facebook, suggesting it was not the legislation she objected to so much as its prominence in her caucus' agenda over more centrist economic issues.
In its stead Republicans will consider a measure prohibiting federal funding of abortion, a bill for all intents and purposes redundant with extant law.
[h/t Washington Post]
[Image via screengrab]
——
>> Follow Evan McMurry (@evanmcmurry) on Twitter
Have a tip we should know? tips@mediaite.com