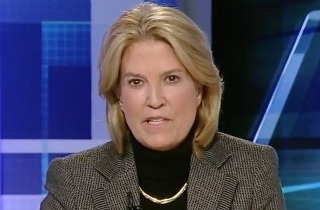 Greta Van Susteren has been one of the loudest voices at Fox News criticizing the "Draw Muhammad" cartoon contest held by Pamela Geller's group this week. On Tuesday, she said that they put law enforcement at risk just for the sake of provocation and that's unhelpful.
Van Susteren doubled down on her Gretawire blog this morning, insisting that she has remained consistent in her views on the First Amendment and the appropriateness of certain exercises of freedom.
RELATED: Fox's The Five Rips Geller Critics (But Overlooks Their Own Colleagues)
She blasts the "flawed judgment" of Geller's group and notes that "while the police are the ones outside protecting, those provoking, even if protected by the First Amendment, are safely inside." Van Susteren suggests an online cartoon contest would have been a safe and effective alternative.
And, just like Al Sharpton did yesterday, she invokes the Muslims serving in the United States military to further scold Geller's group:
Finally — mocking an entire religion is just wrong. My first thought when I saw this is that there are Muslims like Amir Hekmate — a US Marine now rotting in a prison in Iran. This Muslim marine fought for us in Iraq. He risked his life for us and the Iranians are holding him – first sentenced to hanging, and now ten years – for defending his and our country – the United States!

Whether you agree with US Marine Hekmati's religious choice or not, he is a Muslim who worked to protect all of us. There are many, many very good Muslims and mocking them is wrong.
You can read her full blog post here.
[image via screengrab]
— —
Follow Josh Feldman on Twitter: @feldmaniac
Have a tip we should know? tips@mediaite.com
Josh Feldman - Senior Editor