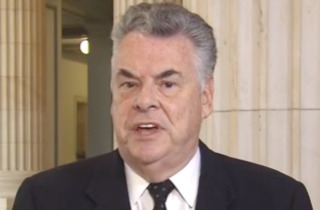 As further proof that a certain brand of conservatives are generally wary about Pamela Geller's particular brand of free speech, Rep. Peter King (R-NY) — he of "more surveillance of Muslim-Americans plz" — said that her actions put people's live at risk, and were "provocative for no reason."
During an appearance on AM970 yesterday, King, the chairman of the House Committee on Homeland Security, criticized the motivations behind Geller's "Draw Muhammad" cartoon contest, which drew two gunmen to the event on Sunday. Keep in mind, King's a notoriously loud anti-terror hawk (despite his own support for the Irish Republican Army) who once suggesting that the U.S. government go all-out in its surveillance of local Muslims. (King also noted that Geller seems to dislike him and believes that "somehow that I was helping the Muslims" during his congressional hearings on the subject.)
So for him to say the following, as reported by BuzzFeed, is sure saying… something:
"It's needlessly provocative," added King, saying he thought the event was "insulting someone's religion."

"For instance, let's assume that all religions have, that there are good people of all religions and they have strong beliefs. I was offended as a Catholic when they had the crucifix in the jar of urine, when you had dung on the portrait of the blessed Virgin Mary. Obviously we don't resort to violence, but to me that's insulting someone's religion."

The New Yorker added he thought the event was "just inviting trouble" and was "putting people's lives at risk for no good reason."
King also mentioned that Geller seemed to ignore the human cost of her actions. "At the end of the day, what has Pamela Gellar gained by doing all this other than the fact that you could have had cops killed," he continued. "And if that officer who put two bullets in their head — talk about being an expert shot – if he didn't do that, we could have…you and I could be talking about 150 people being massacred."
Geller's particular brand of free speech — as well as her justification for throwing the event and her proclivity to call her critics pro-jihad — has drawn criticism from conservatives along with right-leaning cable news stars.
Listen below, via AM970:
[Image via screenshot]
— —
>> Follow Tina Nguyen (@Tina_Nguyen) on Twitter
Have a tip we should know? tips@mediaite.com