Greta Van Susteren Doesn't Like "Trashy" Bush/Condi Segment On Parker Spitzer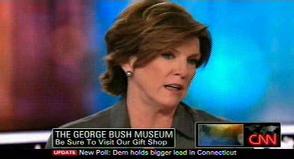 Fox News host Greta Van Susteren was watching CNN's Parker Spitzer last night. We know this because she blogged about it minutes after a particular segment she thought was "trashy" concerning former Pres. George W. Bush and Condoleezza Rice.
It was very vague in the post – but we pulled the clip Van Susteren was referring to. Let's see if you're outraged too.
Here's what Greta wrote, minutes after she watched it on air (sic):
The guest said she met with candidate Bush many years ago and that Condoleeza Rice was there meeting with Bush to discuss international matters. Since I am soon to interview the President about his new book, I paused.

What was bizarre is that the CNN guest made a sexual inuendo about Bush and Rice (including talking about "body language" and that Rice was wearing a tight short mini skirt) and neither Spitzer nor Parker said anything about it being just trashy and wrong to do. Neither stopped it.
Well, that is interesting. Let's find out what Van Susteren watched. In a segment about the just-opened George W. Bush Museum during their "Political Party," Kathleen Parker half-jokingly asked the panel what piece of W. memorabilia they would want to see. Julia Reed, from Newsweek, shared her own thoughts, through laughs, about something she witnessed back when he was still Governor. So he's smoking a cigar (Parker jumps in, "You could have a whole museum on Presidential cigars." Funny!), talking to Condi Rice, and then Reed talks about "body language." Here's what she says:
She had on this really tight, short mini-skirt, and they were kind of sprawled out, and I thought, good at least they have a good rapport.
Now, I don't even really get what she's implying. Or how this relates much to the museum question. But Greta wasn't happy. Her headline was "Why Doesn't CNN Say Something? Is This Right?" and later said she will no longer be "channel surfing" over to watch her friend Parker and Eliot Spitzer. Just wait until she hears the guest who said it works for…Newsweek.
Here's the segment from CNN last night (h/t Gawker):

—–
» Follow Steve Krakauer on Twitter
Have a tip we should know? tips@mediaite.com