Grocery Store Censors Student's 'Summa Cum Laude' Graduation Cake: 'Summa — Laude'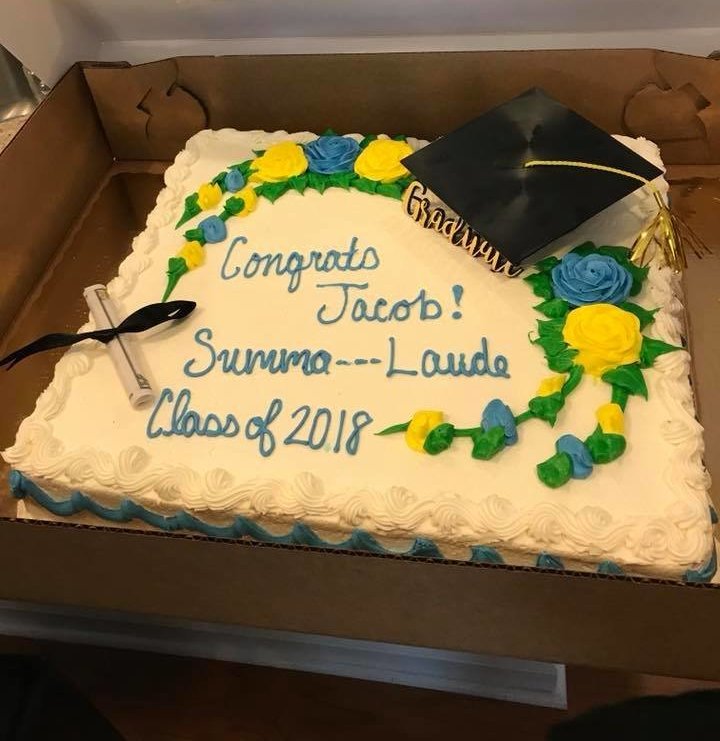 A proud — and now angry — mother took to Facebook on Sunday to voice her grievances after a grocery store censored her son's graduation cake, as the lewd, American English meaning for the word "cum" apparently interfered with her son's celebration of finishing high school with summa cum laude honors.
"I ordered Jacob's graduation cake from Publix. A $70 cake!! He earned a 4.79 GPA," wrote Cara Koscinski on Facebook, the upset mom in question. "Publix refused to write the words Summa Cum Laude because I was using 'profanity!' They put three dashes instead of the word!"
She continued by calling the dessert a "joke of a cake," and added that her "son was humiliated" and that she "couldn't make this crap up."
While the term summa cum laude is Latin for "with the highest distinction," the second word in the term — of course — is a popular sexual term in American slang. Per the Washington Post, Publix — which is a southern grocery store chain — has an online system that vets words put onto their cakes, so as to avoid customers requesting that inappropriate phrases be spelled out with the cake's icing.
So while the mom wanted "Congrats Jacob! Summa Cum Laude class of 2018″ written on the baked good, she instead just got three icing dashes in place of "cum."
"It was unbelievable," said Koscinski to the Post. "I ordered the special graduation edition cake. I can't believe I'm the first one to ever write 'Summa Cum Laude' on a cake."
To make up for the error, Publix refunded the mother and offered her a gift card to be used at the grocery store.
[image via screengrab]
Follow the author on Twitter (@calebecarma).
Have a tip we should know? [email protected]